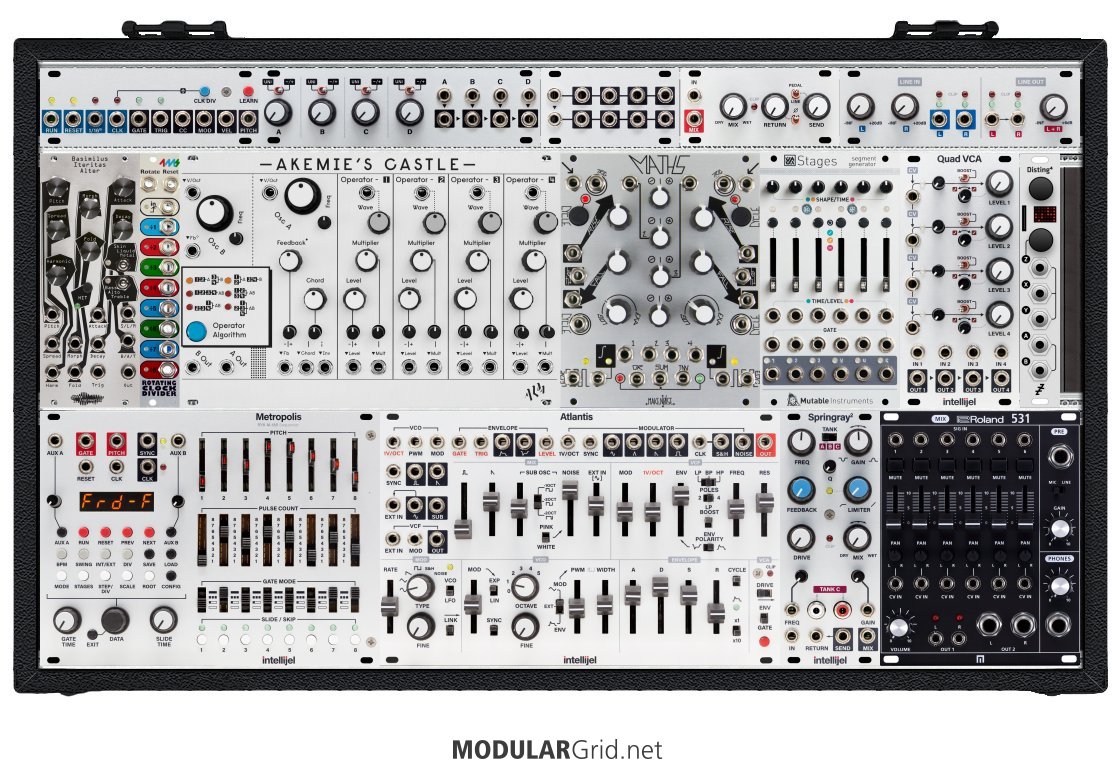 Here is another first time Eurorack build. How am I doing?
My goal: create an instrument/live performance system. Like many others, I have DAW fatigue. I love Ableton, but I strongly desire to get away from the pixels and mouse and into something both tactile and force myself into the live playing limits of a physical thing.
Background: I am an Ableton user and big Max device user. I always end up with many many M4L LFOs and Envelopes and find myself throwing together Max BEAP modules (especially the FM ones) together rather than using Ableton's prepackaged synths/instruments. I have also built some synths from scratch in Max following the Baz and Delicious tutorials. So I have a pretty good understanding of the signal flow and gates and VCAs that lines up with the tutorials I have been watching on modular.
Basic groove box: drums and two synth voices. I think I minimally need delay (Disting) and reverb (Springray) and distortion (via Pedal I/O) for effects. I want to be able to mix within the case.
Self-assessment: I'm gravitating towards the the really big modules and maybe that is coming at the expense of having enough utilities and modulation sources. Notably absent is a dedicated filter (!??!), but the Atlantis has its own. Disting has one, but I am not clear on how much I can make the Disting do multiple things at the same time.
Because it demonstrates my thought process, here are the things I have taken out of previous iterations, mostly but not entirely, in an effort to fight the Big Module Syndrome I suffer from: Erbe Verbe, Z-DSP, Plonk, basic Doepfer filters, Marbles, Hexmix.
I will be starting with the Intellijel case, 1 row modules and Atlantis and using an external MIDI sequencer to get familiar with the Atlantis while I research, plan and save for more modules. All comments welcome, including things like an order to purchase things cuz that won't happen all at once.
My immediate questions right now are:
Are Stages and Maths enough modulation?
Is the Quad VCA enough VCAs?
Can I get away with no filter for the Basimilus and Akemie's Castle?
Are there alternatives to the Metropolis to consider (Varigate 8, maybe)?
What don't I know yet that is evident in this setup?
Thanks,
Steve