Hello,
Here is a rundown of my current Eurorack Case: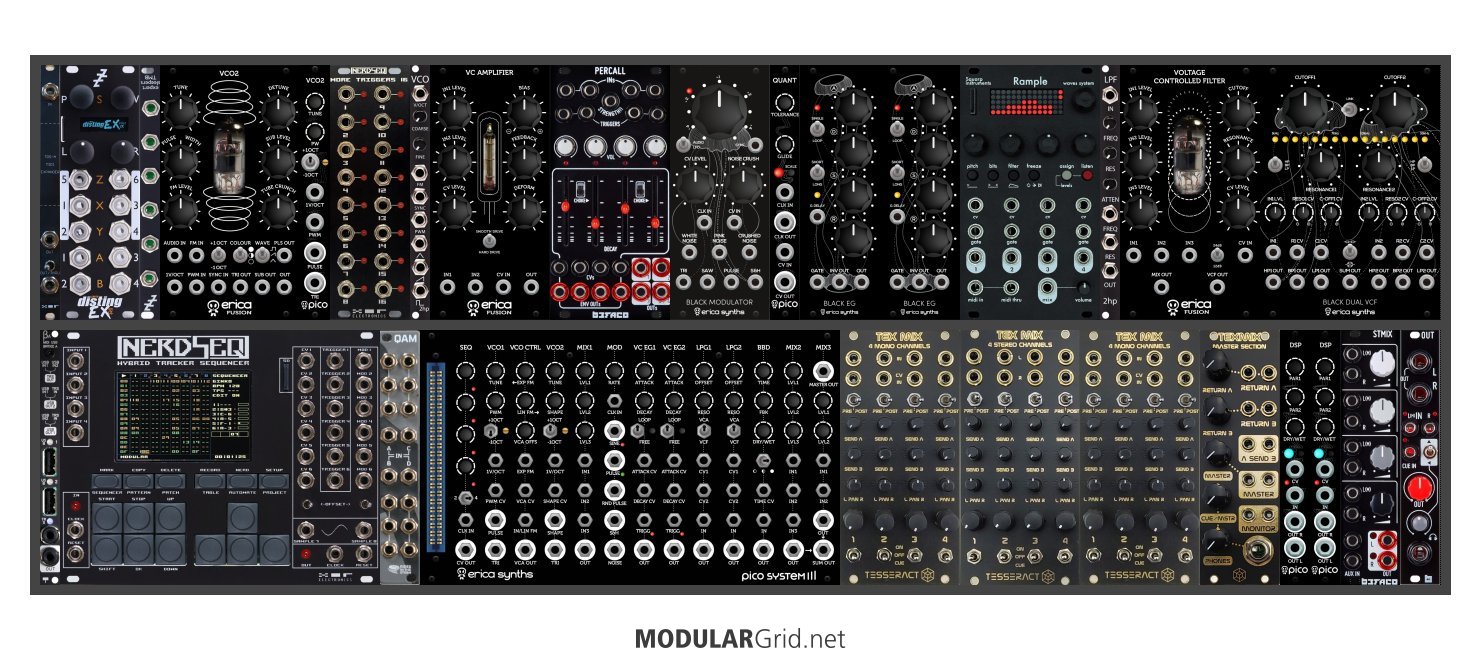 The case is a Behringer Go case. It is cheap and works fine for me.

Voices:
a. Erica Synths: Fusion VOC2, Pico VCO 2, Fusion VCF, 2xBlack EG, For VCA I use the CV in of Texmix Mono Channel Module.
b. The Pico System III is used for max 2 Voices with the 2 OSC, ENV + LPG. Here I use Error Instruments Outboard Attenuator for the EG to LP.
c. Drum Base: Here are several Modules in use. 2HP VCO for the Sine Wave --> Fusion VCA (for Distortion) --> Percall. Percalls Envelope out is used attenuated (Pico system Mixer) into the FM CV in 2Hp VCO.
d. For Snare an Hi Hats I use the Noise from Black Modulator and Percall. Snare is Filtered by the 2HP LPF.
e. Rample is used for additional Drums or Sounds triggered by the Nerseq.
f. Distinct ex is used as Poly Sample/Wave player.
g. Nerdseq have two additional Wave Player. Currently is used for the CLAP Sample.

Sequencer: Obviously the Nerdseq is the main Sequencer. Also the SEQ from Pico System 3 is used as Bassline Generator in conjunction with the Pico Quant.
First 3 Tracks are used for the first 3 Voices (Midi Channel 1-3)
Track 6 is used for Drum Sequencing with the "More Trigger" expansion.
Track 8 is used for 4 Poly Distinct Ex (8 Notes are is not possible in one Track)

Midi: Main Input for my Keystep is the TubeTec Midi USB Bridge a. Then a TRS Cable to the Nerdseq. The Midi Output from Nerdseq is connected to the Distinct ex Module.

What was important for me was a Stereo Mixer in the case with Fx possibilities. For this I have the Texmix.
Channel 1-4: Percall Base, Snare, Hi Hats
Stereo 1,2: Rample Outputs.
Stereo 3: Distinct ex Stereo Output
Stereo 4: Nerdseq build in Samples
Channel 5: Erica Fusion Voice
Channel 6,7: Pico Voices
Channel 8: not used
Aux 1,2 are send to Pico DSPs
Monitor is send to the Black Dual VCF wich enable me to switch every voice to it with the CUE Switch. If the 2 Filter are linked and the CV Attenuverter is set in opposite direction a LFO can make a nice Filter/PAN Effect.
Some thoughts:
* Erica Synth Pico System III was often helpful as a small Toolbox if I need some extra module
* I Still miss some Attenuvertes
* A Turing Maschine Like Module would be nice
* Nerdseq is very helpful to provide additional Lfos and Envelope generators
Sound Example:
https://soundcloud.com/iron_at/bb-tenko
Ok, that's all I have to share, maybe someone find this helpful.
ps.: Still, i have the feeling i need a bigger case :-)