Thanks for reading. I have a very specific philosophy for this next rack and could use your best feedback. Some "Elements" are non-negotiable as you will see, but within the rules of the system I still have a ton of room for changes & feedback. Please, give me your very best advice & experience on this one. It is still early in the design.
Here's a link to my current proposed setup (note, active work in progress):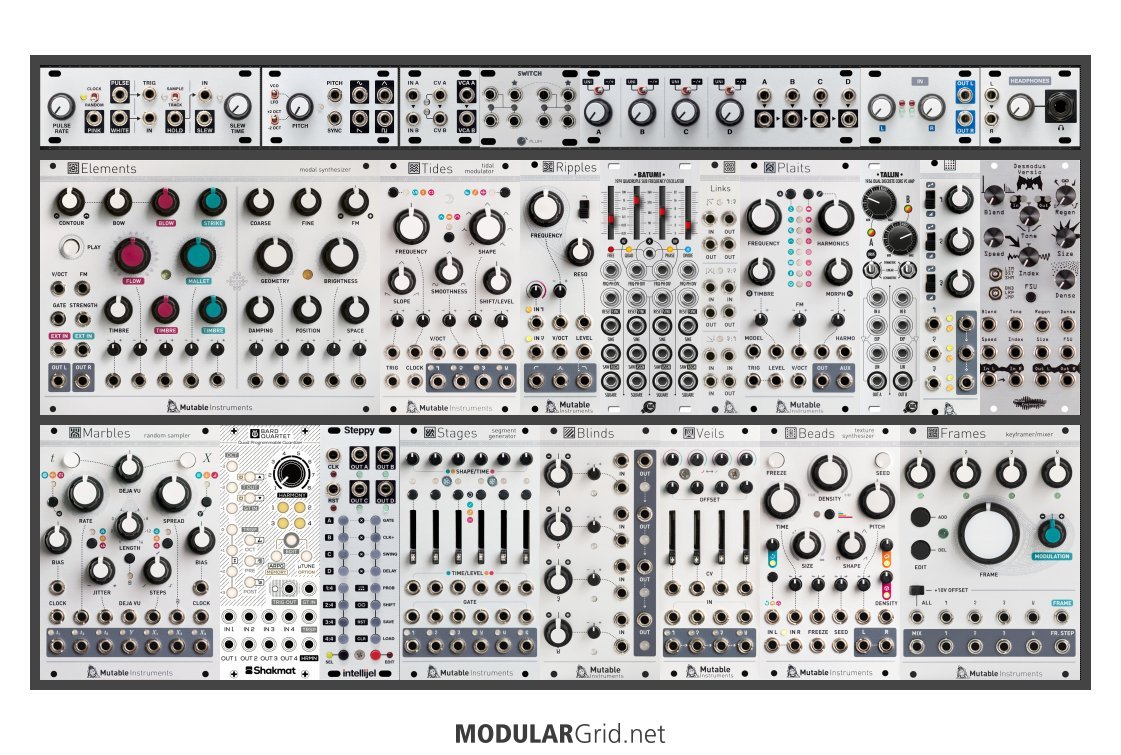 Project Origin: Like so many of us, Mutable Instruments had a lifechanging impact on me. The Elements module is second only to the Mother-32 in its personal importance. With Mutable's production shutting down, it's time for me to build my Mutable Instruments dream system with Elements as a centerpiece to honor Emilie, modular synthesis, and create a highly-expressive & hands-on musical instrument with a strongly-unified aesthetic & philosophy.
Rack Theme: Saying goodbye to Mutable with a boundaryless all-silver system that deeply embraces the modular ethos, absolutely self-contained when necessary and portable within 7U case for outdoor & field recording at times.
Case: Intellijel 7U Performance Silver
System Philosophy:
1) Embrace of giving up rigid control and embrace of interacting with the system as an ecosystem.
When I sit to play, I do best with a low-planning, high-exploring feel. (Obviously a system this deep rewards advance planning of patches - but I'm shooting for "immediacy" of building new patches in the moment with minimal advance planning)
2) Extremely tactile & visual. As close as possible to "1 knob per function, and 1 function per knob."
Menu diving EXTREMELY frowned-on and must be exceptionally well-justified. A piano or violin doesn't have any menu-diving. We're trying to avoid building a computer here. I want to see (and touch) what I'm doing.
3) As boundaryless as possible in honor to Emilie.
Lack of clear-cut "this module is for THIS and that module is for THAT." A focus on highly-mutable modules that can serve multiple purposes, but ALWAYS without violating Rules 1 and 2. Nothing overloaded or menu-divey, I don't enjoy it at all.
4) Able to interact with the environment.
I use a beautiful Audio-Technica stereo field mic and will occasionally be piping it into the system as a live soundsource.
5) Bonus: Some sort of tactile interface for the performer.
Like Rule 4, but may not fit in the case, and I can live without it.
Color Scheme: All-silver, absolutely non-negotiable lol :)
Type of music: I am absolutely omnivorous in this regard, so I look forward to taking what the system gives me. Intention is to create a beautiful color pallet and a clean, simple easel to apply it across, then see where the day takes me.
Non-negotiable modules:
- Mutable Instruments Elements
- Mutable Instruments Tides
- Mutable Instruments Veils
- Mutable Instruments Stages
- Mutable Instruments Blinds
- Mutable Instruments Frames
- Mutable Instruments Beads
- Mutable Instruments Marbles
Semi-negotiable modules:
- 1U Intellijel Stereo Line In (BUT I need a way to get live stereo field-recordings into the system. Usually I have an external stereo mixer or preamp available, but to keep it all in the system, maybe a stereo pre-amp module instead?)
- 1U Intellijel Headphones (BUT I want a clean & simple way to listen directly on headphones without more hardware)
- Mutable Instruments Ripples (I don't have any particular attachment to it, but obviously it's a compact and well-designed filter that fits the aesthetic)
Here's a link to the basic "Non-Negotiable" modules in a single rack (though again, both of the 1Us are replaceable as long as their functions above are covered by a replacement module):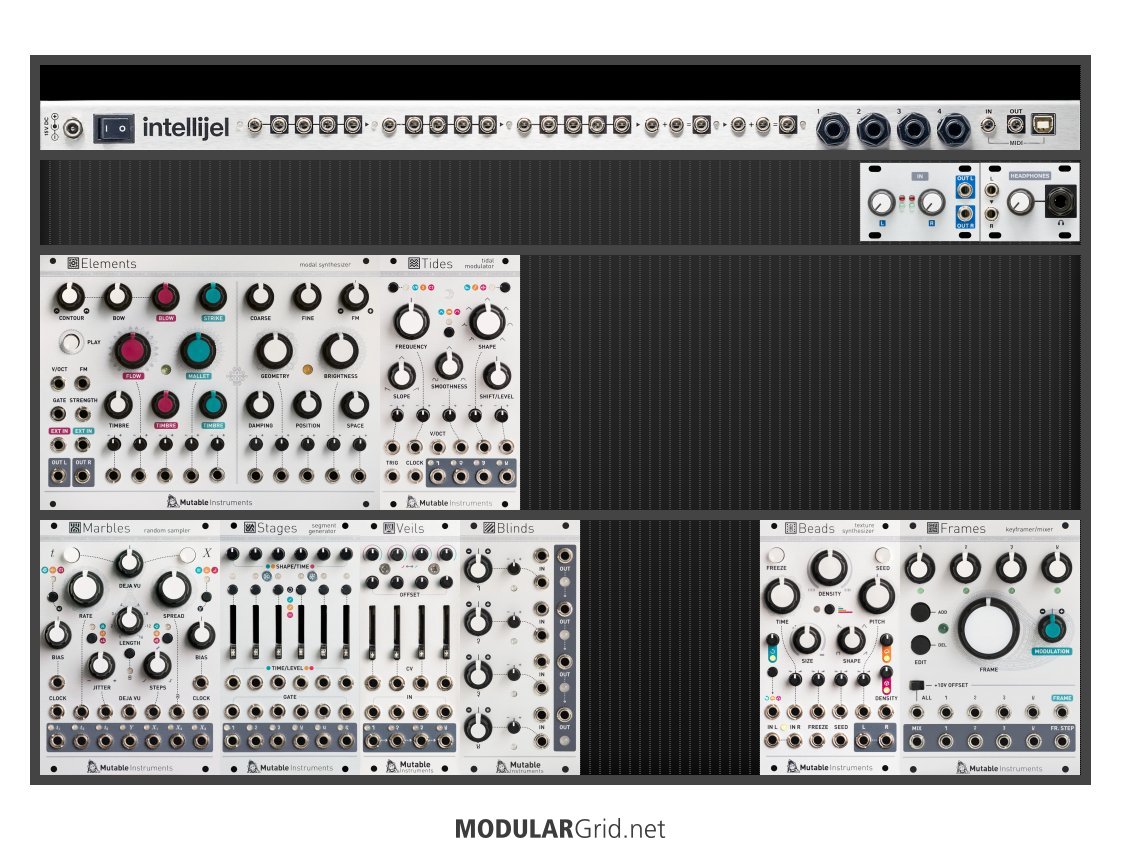 Note - all module positions are negotiable, and I'm interested to hear your reasoning about the positions.
Thanks so much for your time.
NICU on YouTube
NICUmusic on Instagram
For my baby daughter Luna who fought very hard to be here