Hi folks,
My new 15Ux126HP Case from Lake! has arrived, and with it I am re-racking some modules, and arriving at this: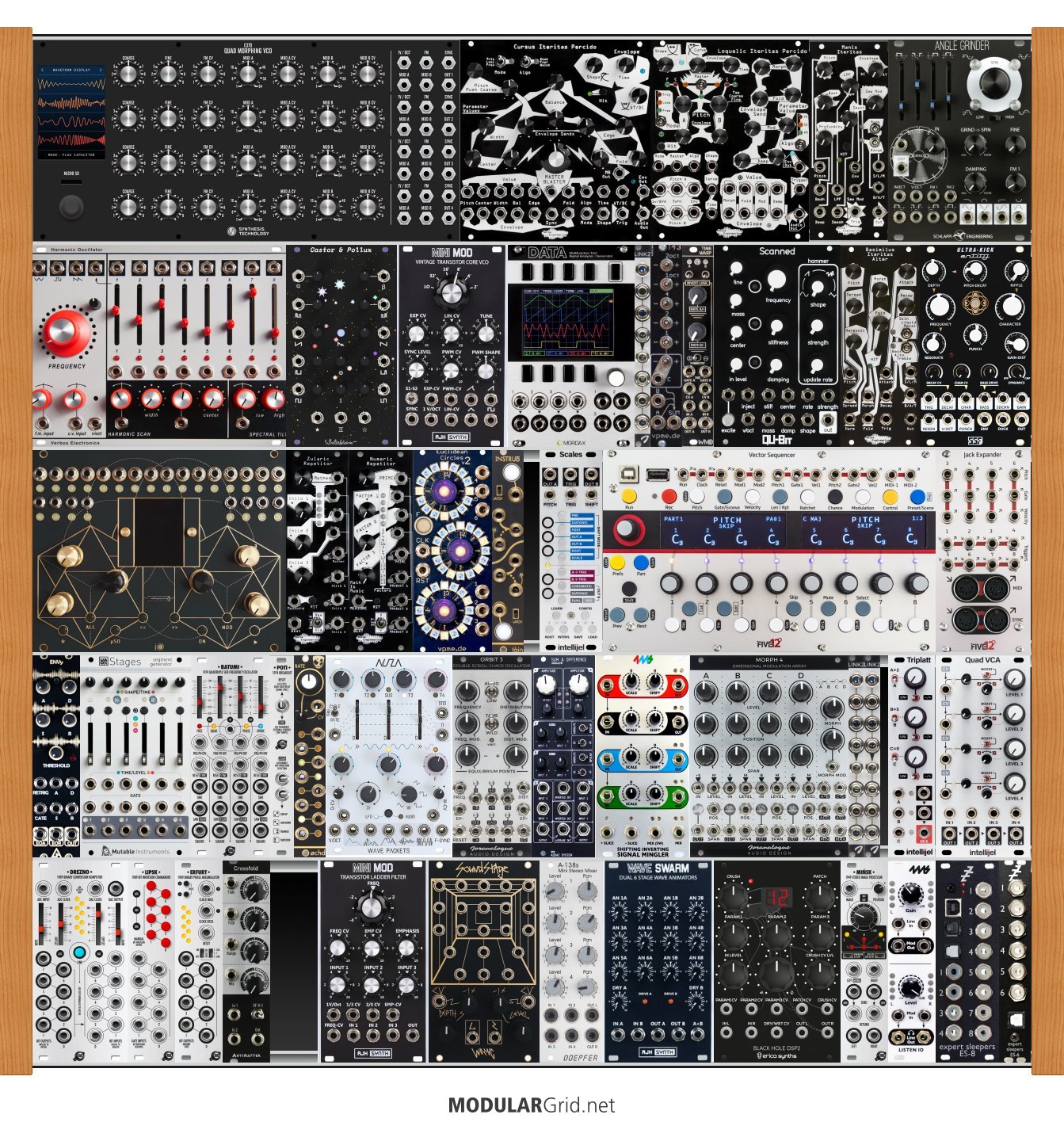 I'm curious to hear your ideas on this and if there are any obvious improvements. Below I'll go through i) my purposes for this rig and ii) my current ideas for likely changes.
The purpose for this rig is to have an inspiring and powerful mobile rig, mainly for use at my GF's place in the company of her and the cats(!!!), but more broadly to have a good mobile modular instrument. It is indeed mobile, thanks to Case from Lake!, but fully loaded a bit of a pain to move around, about as much (or little) fun to move around as a small drum kit. The musical purposes for this rig are:
1. provide a playground for sound design
2. provide some deep sequencing capabilities, including opportunities explore extended sequencing techniques (e.g. sequencing sequencers)
3. have enough perc voices and lanes to do some interesting rhythm programming in modular
4. have enough basic mix and FX capabilities to do a rough mix in modular
5. be able to record several tracks of audio and CV to a laptop (currently covered by ES8&6). I don't plan to get a full song out of the rig at any one time, but to get some key pitched and perc tracks out of it (via ES8&6) should be doable. Net net I'd like to be able to rough out track ideas on this rig, suck them into the DAW, and finish them there.
My current sense of this rig:
a) it feels both inspiring and unbalanced. Yay that it's inspring! I doubt I'll ever fully balance this rig, but a little more balance might help.
b) yes, I've gone OTT on oscillators (top two rows). Note that maybe half of those work well as perc voices also. I intend to keep 75%+ of the top two rows dedicated to "voicing."
c) middle row is sequencing. Of course mainly these will be doing pitched voice and perc sequencing. Vector's 8 tracks would be enough for most applications. The other sequencers are there to give me some options: different UI and workflow, some more lanes, some more opportunities for complex sequencing (e.g. switching or sequencing sequencers, etc.). I DO plan to run some sequencing to Xaoc Lipsk when that arrives, which should allow me to sequence timbres / wavefolding; Flux to Lipsk is an intriguing possibility. On the middle row, I feel like Vector+Extender will always be there, but some of the other stuff might get swapped out for more "workhorse" alternatives.
d) 4th row (from top) is CV and utilities. I feel >80% good about this row. Sum & Difference I don't seem to use much. I might try to free up space for another Quad VCA.
e) bottom row is sound mangling, FX, mix, and output. Module order is kinda strange (due to case depth limitations in some places). Basically on the left I've got sound mangling (XAOC Leibniz units, wavefolder, filter), middle is several mix & fx units, and right hand side is signal out. The WORNG unit is in that row to fill some rough-mix / spatialize duties.
My current sense of opportunities for revisions:
-- more filtering. I'm not a huge filter user, but this rig could benefit from more filtering options. Any suggestions on i) stereo filters that would fit well here or ii) LPGs with lots of lanes per HP (which might be great adds to the perc sound design)?
-- more mixdown lanes in small HP: the Doepfer + WORNG units are not really cutting it presently. I would gladly take suggestions for simple but HP efficient mix solutions to consider swapping in.
-- more switching / logic for complex sequencing: BossBowII (when available) or similar might be good for helping me get the sequencer lanes interacting musically with each other
-- another obvious possibility is to move the E370 out of this rig, as it is so huge! But for the near future, it is staying.
-- obviously most of the HP is already claimed, so any swap ins will require removing a lower priority module. And FYI I already own a lot of these modules (I've been re-racking them to the new case).
Curious to hear any ideas / responses you might have to the above rig, thanks!
Nicholas