This is where I currently am after 18 months into my modular journey.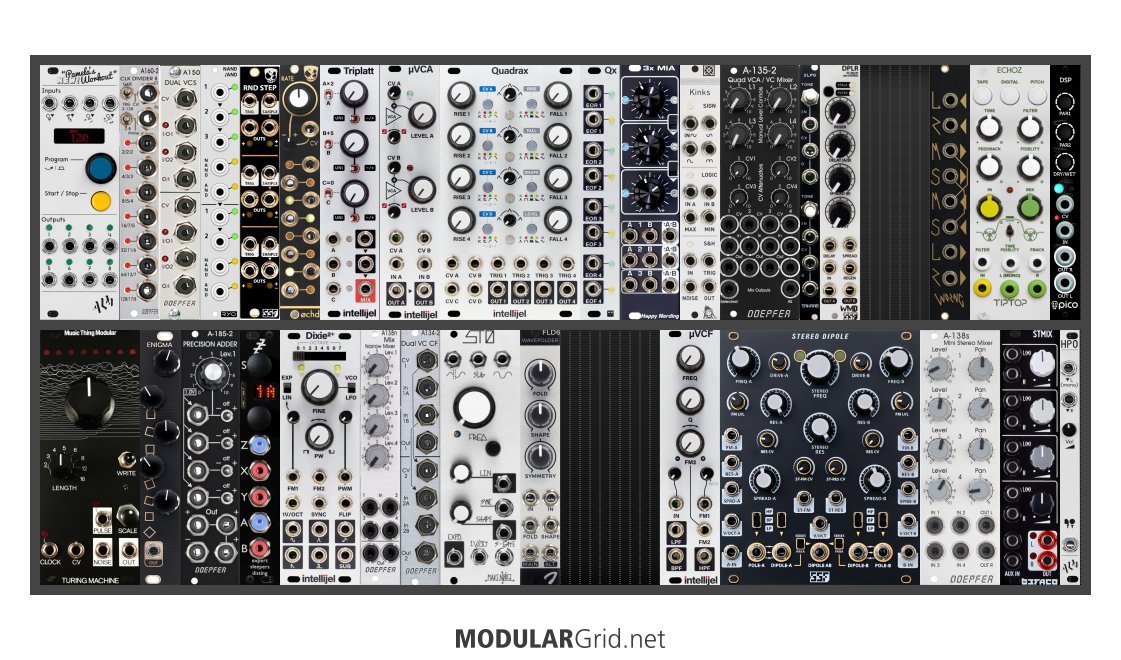 Case is a custom 6u 104hp build with Konstant Lab's BoardPWR for power. At some point in the next year I'm going to go up to a 9u case but that's about as large as I can go for the moment (limited space in the house)
As far as other modules I've got a Noise Reap Paradox, Make Noise STO, A-151 and A-183n that I swap in and out. Also got a Zlob Triple Cap Chaos, Triple Diode Chaos, CuteLabs Missed Opportunities and AI Systhesis matrix mixer to build.
I can also see me buying some more utilities like a Compare 2, Branches, logic and attenuators etc. and perhaps some filters e.g. want to play with a QPAS, probably want to play with a complex oscillator at somepoint but not sure I'm ready for them ATM.
Generally I try to avoid anything 4u and below that has a knob on it but there are exceptions, and as work in tech I'm more interested in modules with tactile controls rather than ones with digital interfaces.
Music wise I tend to listen to mostly electronica and ambient - Carbon Lifeforms, Marconi Union, Jon Hopkins, Urlich Schauss, even occasionally Steve Reich etc.
And the music (noises?) I'm mostly making tends to follow evoling ambient with occasional percussive elements but I'm really still experimenting, exploring and having fun!
I'm still new to this and open to thoughts, comments and other feedback on what I've got so far and where I'm thinking of going.
Quantizing is the area I'm least sure about and I think I'm actually pretty OK on the others below but writing my thoughts out helps me so feel free to prod at them
Quantizing
This is probably what I need to tackle first as I'm current using the Disting for this and I really dislike it (don't like the UI). Know I could also use Pam's for this but want something that doesn't involve menu diving and has immediacy so unless someone produces an expander with buttons think this rules out O&C too.
I've read multiple manuals and watched a fair few videos and I think what I really want right now is the simplicity of a couple of uScale IIs but as they're discontinued I'm looking at other modules - Intellijel Scales, Shakmat Bard Quartet or ADDAC207. Are there any others I should look at? Must have buttons to chose the notes though
Mixing
The ergonomics of the Doepfer and ST Mix don't work for me as the ST Mix is too cramped.
Currently thinking of getting the SSF Vortices as it's got enough channels, and has voltage control for fading, panning etc. I can use the existing mixers as submixers if I need them, would use right angled cables for the lower sockets to keep the cables out of the way.
FX
I think I'm going to replace the Pico DSP with an FX Aid (XL probably) but not sure what to do with the Echoz... I guess it's OK but wondering about replacing it with a DaisySeed based module perhaps patch.init so I can experiment with programming it
Sequencing
I'm having fun with the Turing Machine & SQ-1 but want a bit more CV control so thinking along the lines of TipTop Z8000 and perhaps Transient Modules S8 coupled with something like a Grids clone, Steppy etc to clock / reset / hold them (can also PNW for euclidean etc, clock dividers, logic too)
Sorry for the long post and thanks for reading this far…