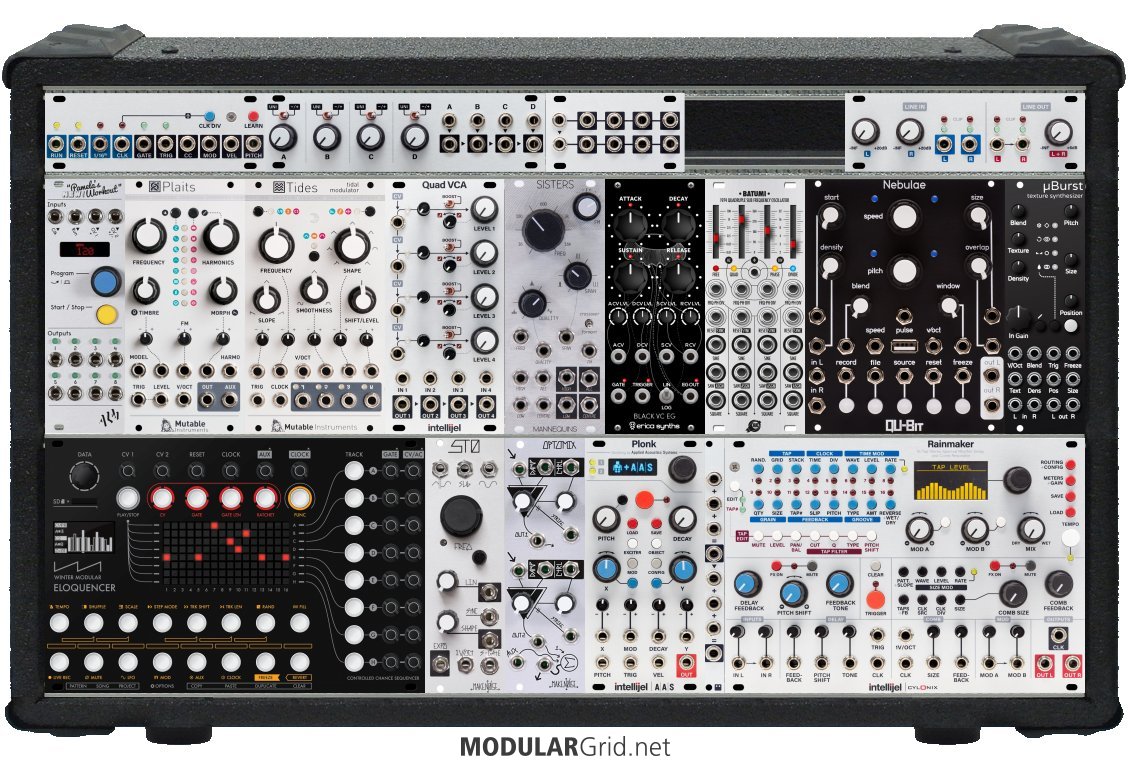 Hi Everyone
Looking for some advice, tipps & tricks before jumping into the world of modular! Heads up - Long post ahead!
Some Background information:
I've been researching and learning about modular for about half a year now. Mainly from watching tons of videos, checking out this forum, reading Pacht&Tweak and now I finally want to get my hands on some modules. I think I got some basic knowledge built up but I learn a lot faster if I can actually try out some stuff I read and hear the outcome. I've been producing mostly electronic music (dub techno, micro house, deep tech) with Ableton and some outboard gear like the Nord Lead A1, Korg MS-20 mini and TR8.
What kind of sound would I like to achieve?
I really like the sound from Plaits and Tides. Absolutely love the chord modes on those modules, which I would like to use for making rhythmic, evolving patterns / soundscapes. I really like the sound of clouds. So I decided that I would get a secondhand Module or go for the microburst or microclouds, whichever is easier to get my hands on here in the Europe. I want Plonk to be my source of percussive sounds, which I would like to run through Rainmaker to create some interesting rhythm. Love how you can modulate the pitch of all 16 taps from Rainmaker. Batumi will be my main source of modulation. I also really like the way Nebulae works, especially the option to manipulate speed and pitch separate. I want to use Nebulae to record random samples from Plonk to create little Sample Packs. I once read that with a firmware update, you can record directly onto the USB stick. With Sisters I think I got a great sounding Filter, but I'm also open for suggestions. And I really dig the analog sound of the STO in combination with the Optomix Lowpass Gate, which also gives me some mixing capabilities.
Starting Plan:
For the Case, I want to go with Intellijel's 104HP 7U Case (+12 V output at 3000 mA, -12 V output at 3000 mA and +5 V output at 1500 mA. - I think that should give me enough headroom?)
For the first Modules I'm considering Plaits, Tides and Plonk as my soundsources, the 1U tiles for Midi, Ins & Outs, VCA/Mixer, a multiple, as well as a headphone amplifier for some utility. In the Future, I want to set-up Pamelas New Workout as a slave from the 1U Midi Module, which syncs to ether some hardware or Ableton (I hope that makes sense?). I also want to start with the quad VCA (or is the 1U tile enough for the start? From all I hear, you can never have to many VCA's :D), the Envelope Generator from Erica Synth, Batumi für modulation, and Clouds for effects. Does it make sense to start with these modules or am I going to fast?
I want to hold up on the eloquencer. At the moment, I'm not sure which sequencer ist the best choice (I'm also thinking about voltage block or 1010s Toolbox). So for the start, I thought I would use Arturia's Keystep.
I want to get to know my other soundsources first, before getting the STO. And I don't want to start with to much.
Next up in line to purchase after getting to know my first modules in the Starting Plan would be Rainmaker and the Nebulae V2. I looked at some alternatives, like the Tape Delay Unit Magneto from Strymon, Morphogene, or the sampler from 4MS, but kept coming back to these two. Maybe someone with experience with these Modules can give me some insight to why they chose one over the other?
Sorry for the long post, but I hope I could give some insight on what I would like from my future Modular System. I'm really looking forward to not only a great learning experience, but also the little sonic surprises you get while experimenting with different patches.
Thanks a lot for reading and any kind of feedback will be highly appreciated!
Cheers!