Hi everybody,
First post here :)
After months of weighing the pluses and the minuses, it's decided, I'll buy my first modular system. I even have some money saved up for it.
I have a good background in music making, bought my first hardware desktop synth more than 15 years ago and I know what sounds I want to go for, how to make most of those using regular synthesis techniques and effects, etc. I've tried my hand at vcv rack and played a lot with the Axoloti, but while I really enjoyed the patching part, staring a a computer screen all the time to make music just doesn't click with me. Modular + Elektron Octatrack sounds like the ultimate music making combo.
Below is the rack I came up with, started as a copy of the Erica Synth Black System, and I tried to move towards something that made more sense for my use.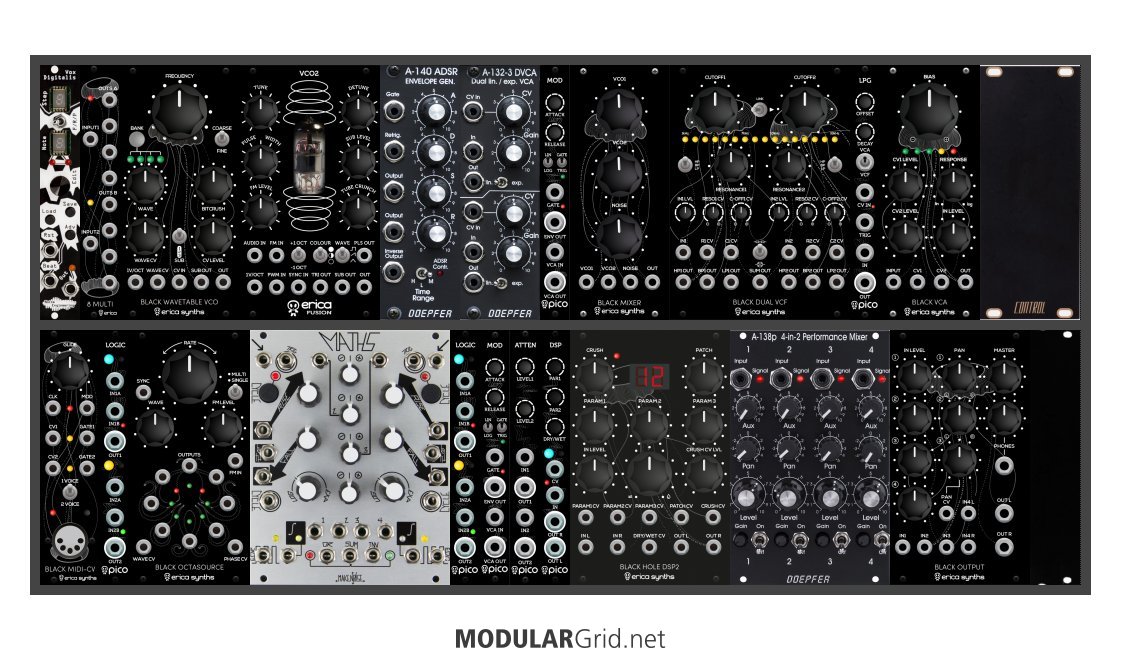 The goal for this setup is
- making dark sounding drones
- creating sampler food, mostly interesting textures
- making simple sequences for bass/synth lines
- have fun experimenting with sound (although this would amount to creating sampler food, I admit)
I think this setup provides me with nice sounds sources and plenty of modulation to spice things up, some effects and utility stuff etc. Nevertheless, playing a bit with software doesn't exactly qualify me as expert so I'm worried I overlooked important aspects of a functional setup.
So, what do you think, is this something you'd like to play with or an insult to your eyes ? :)
Am I missing something or would you add something that would take this to another level with limited space (there are some HP left).
Thanks in advance for your time and comments !
Diego
--- Voltage control all the things ---