Hi all ! Merry Xmas !!
All right, it's my time to ask for advice and opinions on how to extend my rack. This is what I currently have (and already enjoy a lot):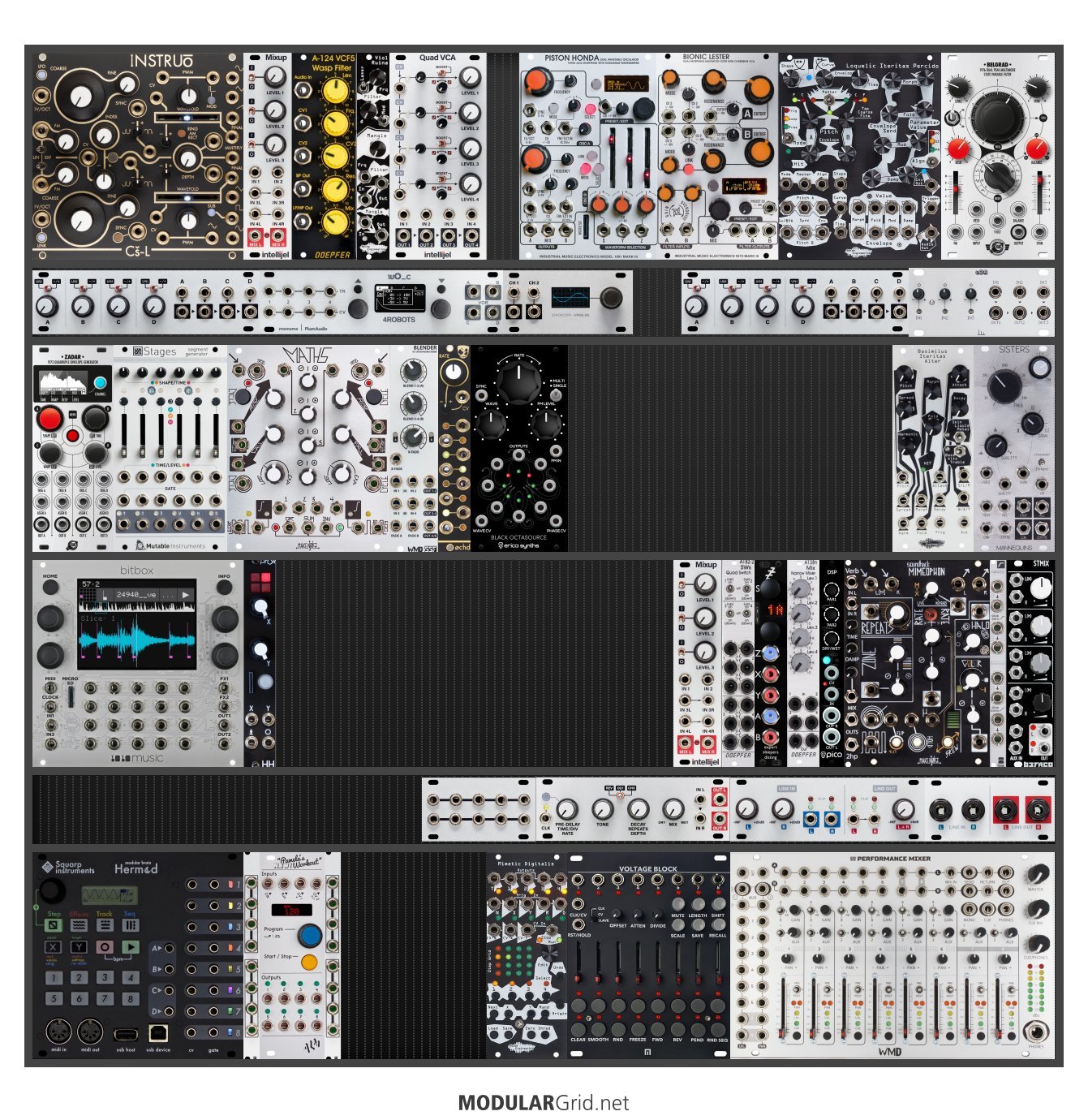 I use my setup to generate most of the synth lines in my music, the drums, one shots and what not are handled by an MPC Live (mk1 so no CV outs) which also sends MIDI sync to the Hermod. I of course sample the LIP and BIA quite a bit for drum duties, but it's a quick sample/loop that goes straight in the MPC. I also sometimes use the rack on its own to jam so that why you see the Prok HH there, although the main reason was that I wanted to build something lol. For those who want to get an idea of the sort of « music » I make (although I haven't posted much of the modular music yet):
The placement of modules follows the patching I found myself making the most because that's what made most sense in my head but I also often patch the C-sL into Sisters or Belgrad so there is nothing fixed.
And this is the plan I have for now: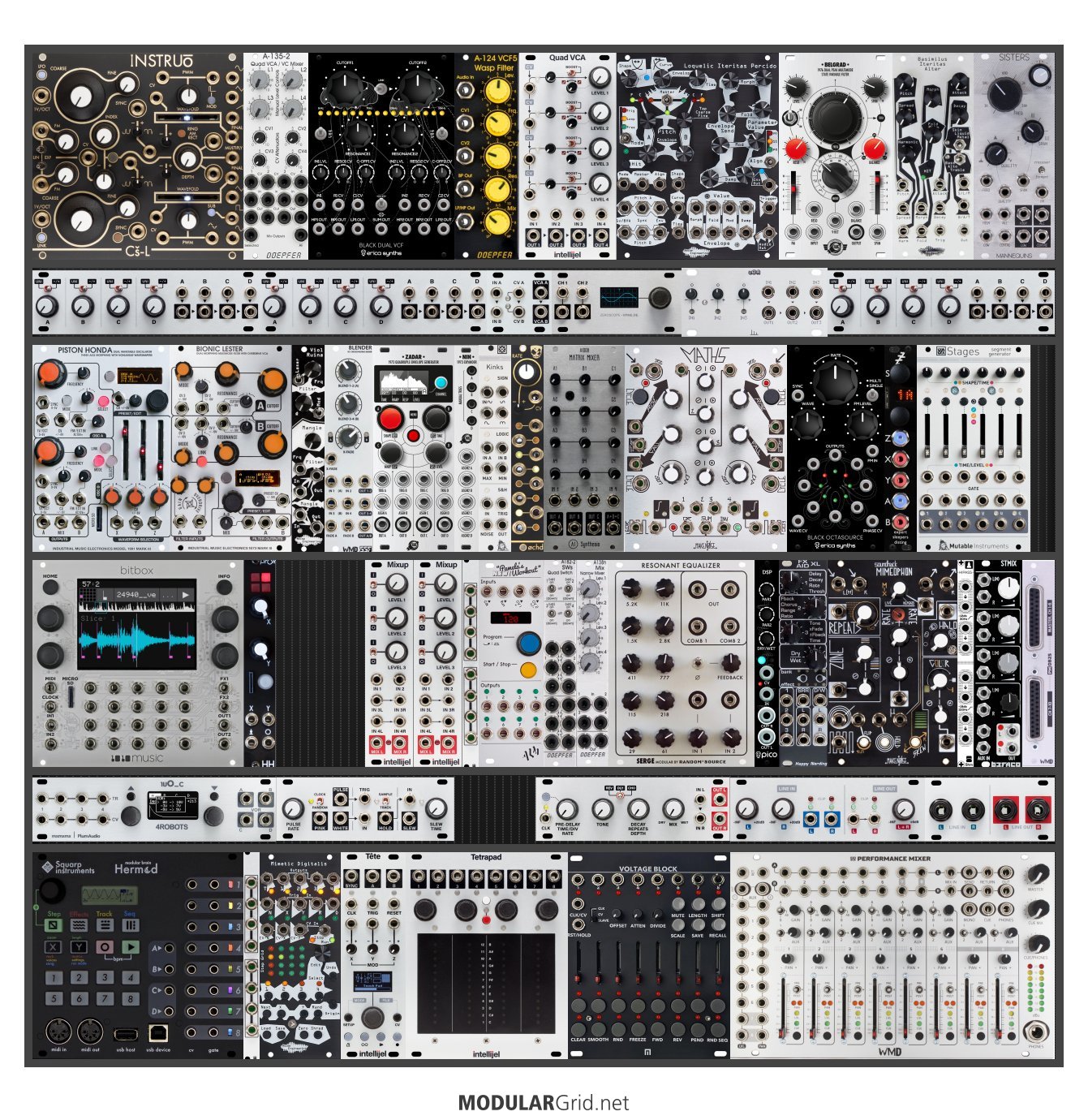 Let me explain the changes:
I need more VCA's ! I'm coming from a smaller setup with less everything, where the Quad VCA made sense but it's clearly too little now. Even the mixer I use to mix & match waveforms from the C-sL could be a Quad VCA instead, it would probably be more fun, being able to control the mix by hand AND cv ! So I removed the Mixup and added a Quad VCA from Doepfer and a small double VCA in the 1U row. For now…

I need multi tracking ! For now I thought of adding the expander for my mixer, I'd lose the effects on the recording but I suppose I should consider the Mimeophon as a 1 track effect (like the Chorus from the 1U effects, for example) instead of a send, it's a bit noisy as a send anyway. I'm very open to ideas on how to do things better, though !

I like having 2 different filters with the C-sL but I miss a proper stereo VCF for that voice I feel, so I thought of repurposing the Viol Ruina to an effect duty, and introduce the Erica Stereo VCF in the mix (if I can find one, I think they're discontinued but I see some on the 2nd hand market).

I don't like having to sacrifice the Disting for logic duties (or worse, Maths), so a Kinks could come in very handy I reckon.

I'm using one of the Intellijel Mixups which are remains of my old build as mixers for feedback paths and what not, but a matrix mixer would be so much better, so I think building the AI Synthesis is almost a must-do for me.

Added the ResEq in the hope that I could figure out how to properly order parts for the build. Or buy one already made. Anyway, looks like a lot of sound timbre fun to be had, I mean, it just ticks too many boxes of what is fun for me (feedback, distortion, band rejection, oh boy).

The times when I wish I had more cv inputs on the Zadar are sorta rare but I figure those + the trigs for each channel would be nice to have.

Finally I'd like to have some sort of hands-on controller, to be able to trigger voices and or modulation, the Tetrapad seems like a perfect fit, probably a lot more so than the Pressure Points. I still need to investigate how necessary Tête really is.
Anyway, enough of what I think, let's hear what you think ! What would you change ? What do you think of my plan for the future, am I missing something glaringly obvious (or very obscure) ?
Looking forward to read your opinions and thank you in advance for your time !
Take care !
D.
--- Voltage control all the things ---