I've been building this rack for a couple of months now and I finally got the Midi 1U on Friday, so I could sync it directly with the DAW and do some recording. I threw together this patch and hit the record button. I did a lot of manual modulating while it was running. I added a drum track in the DAW, a Taurus Pedal bass line, and because it wasn't busy enough already I layered in a short sequence from my Rev 2 as well in the middle.
The goal was more about process, technicals and logistics than it was about musicality, but I hope there some of that to be found here.
Here's the tune, the rack and the patch notes. Feedback welcome. Cheers.
https://www.modulargrid.net/e/patches/view/75225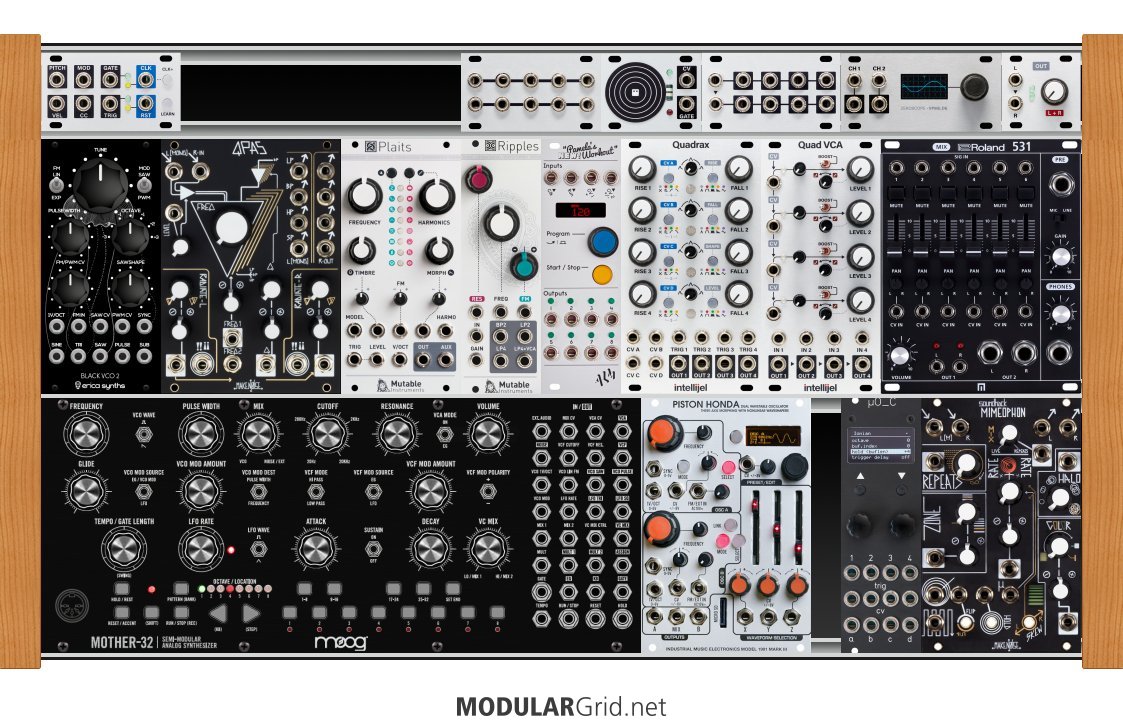 Modular Jam Feb 27, 2021 Patch Notes
Master Clock from DAW (Studio One 5)
Voice 1 Routing
• Tempo from PNW into Arturia Keystep
• Keystep Sequence Pitch Out into Erica Black VCO 2 1v/Oct
• Saw out into QPAS Left
• Pulse out into QPAS Right
• QPAS LPF Left and Right into Quad VCA
• Envelopes from Quadrax
• Quad VCA into Mixer
• Mixer channels panned hard left and right
• Mixer into Mimeophon
• Mimeophon to Main Outs
Voice 1 Modulation:
• PNW LFO into QPAS Frequency
• Quadrax LFO into QPAS Radiate Left
• Quadrax LFO into QPAS Radiate Right
Voice 2 Routing
• Tempo from PNW
• Mother 32 Sequencer to internal saw wave
• M32 VCO Pulse out into External input
• Mix at 50%
• M32 VCA out into Quad VCA
• Quad VCA to Mixer
• Mixer to Mimeophon
• Mimeophon to Main Outs
Voice 2 Modulation:
• M32 Internal LFO triangle on PWM and Cutoff
• PNW LFO into M32 VCO Mod Amount
• Maths into M32 LFO Rate
Voice 3 Routing
• Mother 32 Sequencer KB out to Plaits
• Plaits into Ripples
• Ripples into Quad VCA
• Envelope from Maths Ch 1
• Quad VCA into Mixer
• Mixer into Mimeophon
• Mimeophon to Main Outs
Voice 3 Modulation:
• PNW LFO into Plaits Timbre
• PNW LFO into Ripples Frequency
• Maths Ch 4 into Rise of Ch 1
• PNW tempo into Maths Ch 1 trig
Mimeophon Tempo sync from PNW
Mimeophon in Ping Pong mode