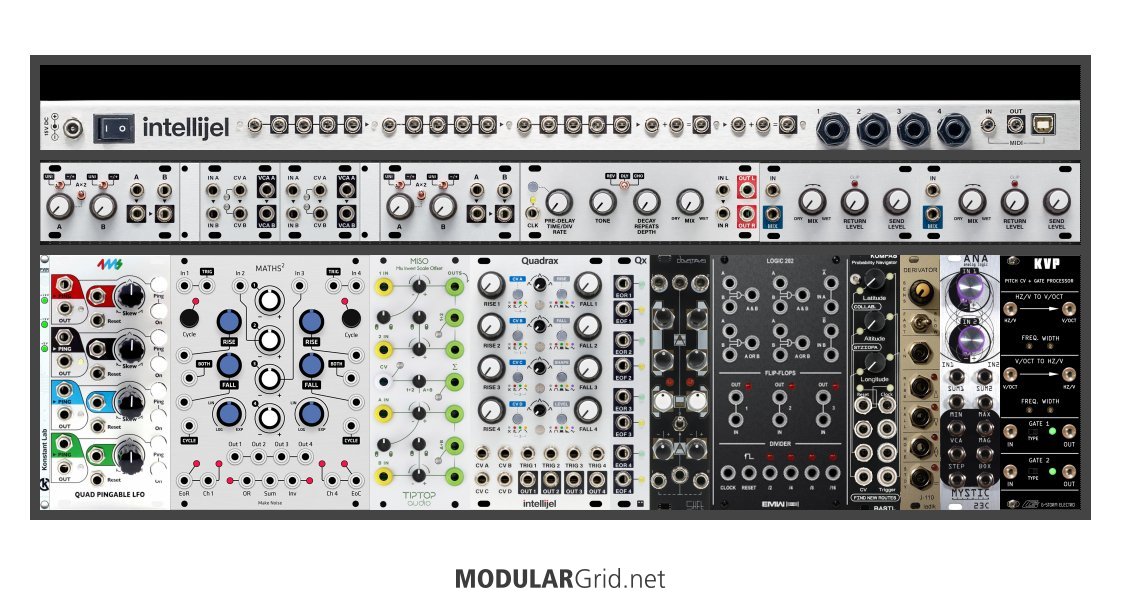 Been tinkering with this for a little bit. No, it's not a full synth; this is intended as an "expander" for my Digisound/B.2600/AE setup (with the AE being accessed by this via a Soundmachines Nanobridge) plus an interface for pedals and a translator for the MS-20 minis.
I opted for a Palette 104 here, as this allows for the utility row and tile row, which makes this work much better than if I'd done it as a tile-less cab build. The tile row offers two pairs of attenuverters which also function as utility mixers, four extra VCAs, Intellijel's MultiFX, and two of their Pedal I/Os which connect to pedals via the 1/4" jacks on the Palette's utility strip.
The module row has a KonstantLabs PWRchekr, 4ms QPLFO, Maths, and a Quadrax/Qx for modulation sources, with the MISO added for modulation transforms. Then the logic section has a Dovemans dual window comparator to pick gates off of modulation signals, an EMW Logic/Divider, a Bastl Kompas for probabilistic gate generation, a Ladik Derivator to pick gates off of CV direction changes, and a Mystic ANA for CV arithmetics. Last module is a G-Storm KVP for translating normal CVs and gates to the Korg MS-20 format (Hz/V CVs and inverse trigger/gates).
Not bad, I think...this hits all of the necessary bases to be a proper modulation expander, plus it offers logic and some stochastic functions for "complicating up" clock and/or gate/trigger behavior, and the FX interfacing. Should be a great fit...