Hi folks,
I'm new to modular, but a longtime musician, and experienced with VST-based synthesis. I've gotten into the modular scene for about a month now. I'm really enjoying it, lots of exploration and learning!
See below my current "mid-size / portable" rack design. I'm making a rack with the goals of i) it can make rich and evolving EDM style leads or basses ii) it has enough CV to be internally sequenced / controlled iii) it is a platform with real sonic / musical DEPTH that is a fun and exciting way for me to explore and learn sound design and modular techniques iv) it is a medium-sized format I can easily move. I'm not trying to make a "forever" rig, just one that will meet the above purposes for a while and really help me learn core modular techniques.
Thanks to JimH, Lugia, Farkas, Troux, Zuggamasta and others who've given interesting and helpful feedback on my prior posts. I DO basically understand and agree with Jim's guidance of having module #s in the following proportions: "sound sources < sound modifiers < modulation sources < utilities." I would say in the longer term, I will try to have my rigs generally reflect that proportion. In the shorter term, I still have a lot to learn about what utilities are useful for my aims, and the specific techniques for using them.
So, I will ask of any of you who care to contribute some rack feedback, what might YOU add to the rig below if you were using it for rich & evolving EDM leads / basses (basically as a powerful monosynth for a pitched voice)?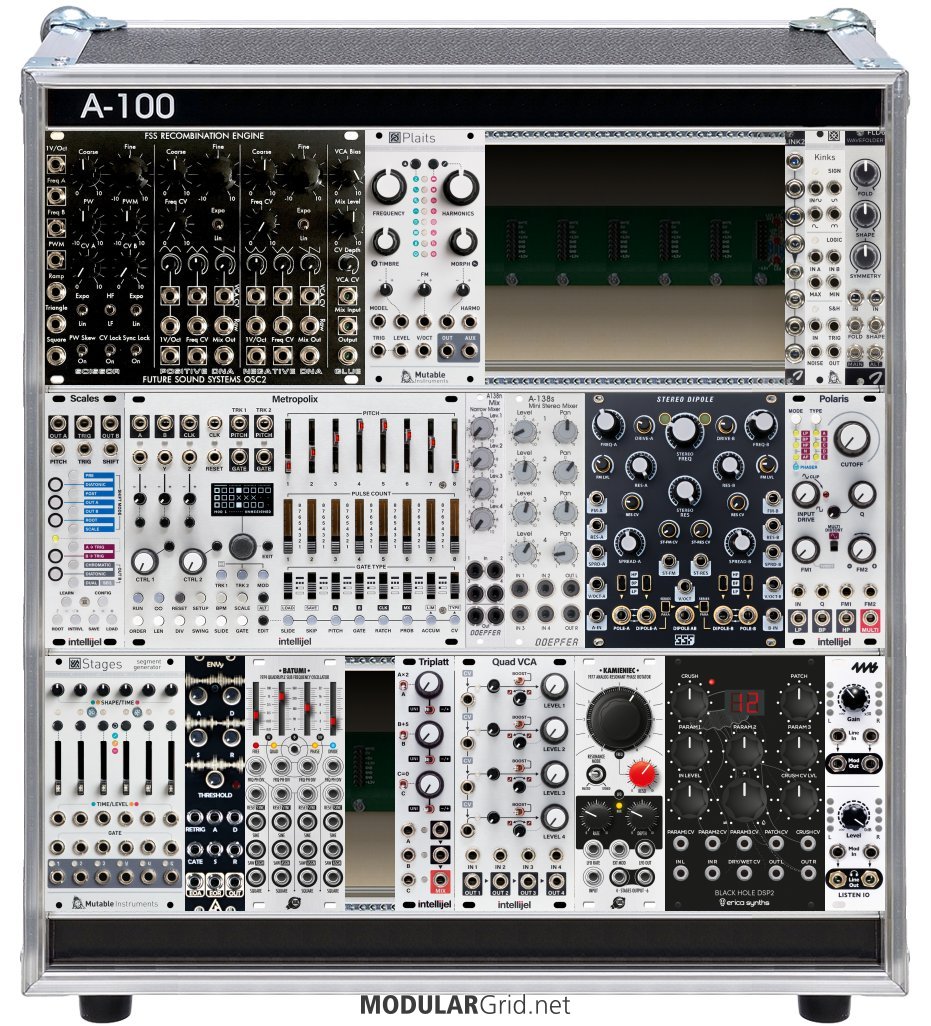 My comments on the rack design so far:
-- it will have 1-2 oscillators: FSS OSC2 and likely one other (presently Plaits)
-- it will have at least 2 filter options, plus waveshaping available via Kinks and Fold6
-- the FX I'm pretty set with Kamieniec and Black Hole DSP for now
-- I definitely want some submixing available (with Link2 mult, and A138n + A138s Doepfer mixers). The intention is to be able to i) get multiple timbres out of my OSCs ii) have some parallel routings to & from filters, waveshapers etc. iii) have stereo mix and panning at relevant places in the signal chain iv) have CV driving interesting sonic changes to all of the above v) all of that would likely be summed to stereo for "finishing FX" with the Black Hole DSP2. In other words, the ideas is to have multiple parallel routes to get a rich, evolving EDM lead or bass.
-- the CV section presently planned includes Metropolix, Stages, Envy, Batumi, plus Scales for quantizing. I do not yet have a great plan for mults / mix / logic etc. from the existing CV modules.
-- the utilities (sigh) section is fairly sparse, mainly because I don't yet have a firm understanding of these. Triplatt, Quad VCA, Kinks and Link2 give some basic utility function. I'm just unsure the # and variety of additional utility modules needed to really extend the sound design depth of this draft rig.
For your comments / suggestions, please assume 35-70 HP to work with for additional modules (anything over 35 HP, I would have to yank out some of the current draft rig, which would be okay). What would you add or change to "superpower" this rig as an EDM monosynth?
Some of you have already responded to my prior, more "open ended" posts. Thank you! I continue to revisit those and try to "digest" the info that is new to me. Moving towards a more specific vision, this post presents a concrete "draft rack" above, and I will welcome any suggestions / comments that could improve it. Layout can also likely be improved, though I would want to have a clearer idea of what the remaining modules would be before trying to improve positioning.
I will be interested to hear your ideas. Thanks!
Nicholas