Hi folks,
Here is my current "midsize rack" design. It is intended for i) EDM lead / bass tones ii) learning modular iii) fun and exploration.
This is the round 3 design, after "just ideas" in February, and an earlier build mockup in March.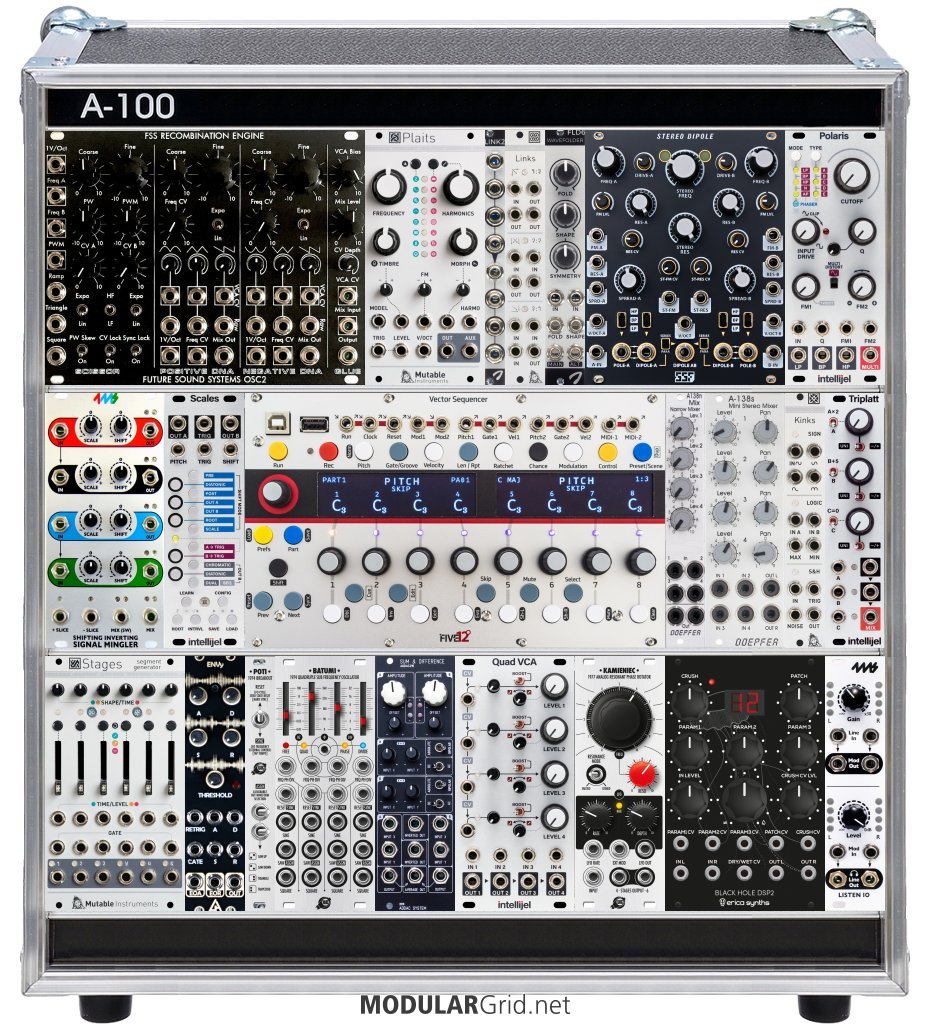 The basic design logic:
-- Row 1 is "voicing" with 2 oscillators, 2 filters, a wavefolder, and a little bit of mult utilities in the middle
-- Row 2 middle is "brains" with Vector Sequencer and Scales (quantizer) to the left. I did choose to keep a quantizer (in addition to the sequencer) in the design as I wanted an independent chain to sequence pitch class sets. And I went with Scales over a couple other suggestions as Scales better fits my thinking and workflow.
-- Row 3 is CV (Stages through Batumi) followed by VCA, effects, and signal out
-- tucked in a few other places are attenuator / logic modules (4MS SISM, ADDAC Sum&Diff, Triplatt) to control / mix CV signals; Doepfer narrow mix and steroe mix to let me have a couple chains through the OSC, filters, Wavefolder; and Kinks
-- modules are selected by i) what's inspiring to me ii) what modules will complement others iii) what is in stock (vs. having to wait forever) iv) to keep some "easier to learn" modules involved (vs. having huge manuals for everything)
Regarding layout:
-- I wanted Voicing on top row, the Sequencer in a nicely centered position, effects and signal out in the lower right
-- other items are arranged thinking how I might normally patch them, and where the HP is a good fit
I'm curious:
-- what do you think of this build?
-- would you consider this a deep / fun rack? If yes, why, if not, what changes would improve it?
-- are there clear ways to improve the layout?
Thanks to anyone willing to have a look & kick around some ideas on this. And thanks for the many helpful comments on my earlier posts!
Nicholas