Well, thanks everyone. I've had a think and come up with a mk ii version of my potential first system.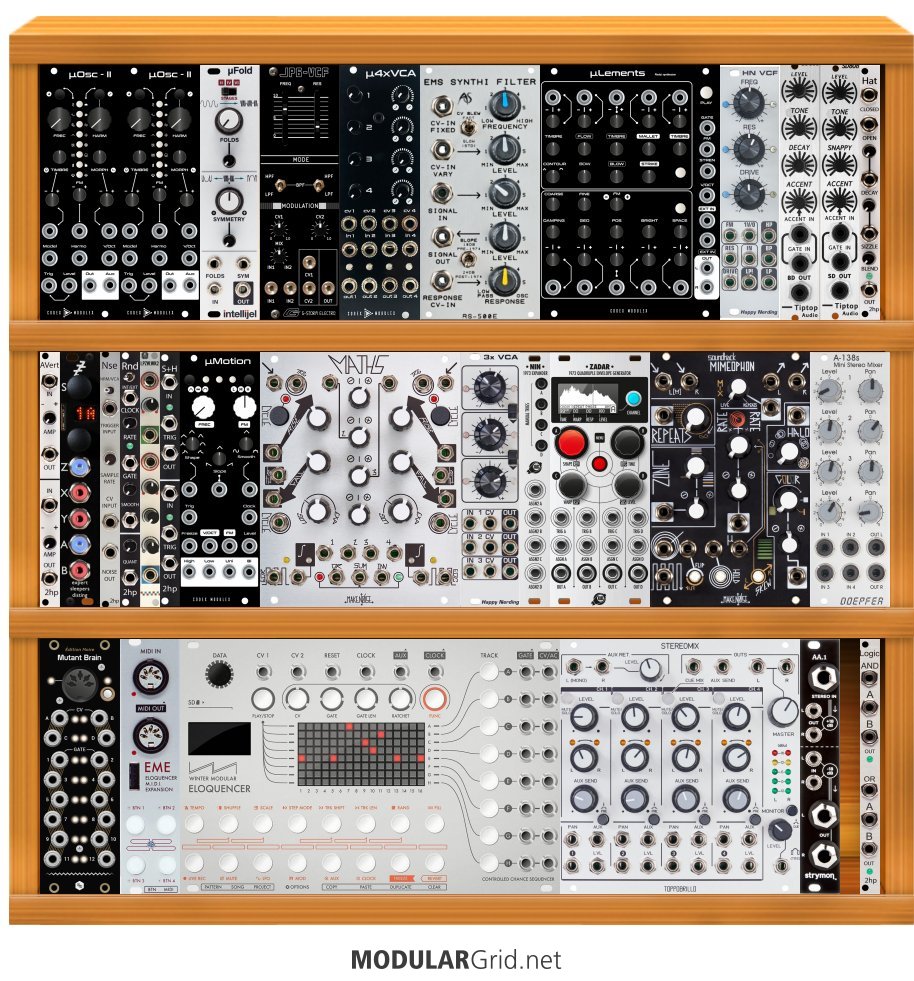 A few thoughts:
-I used a lot of Lugia's suggestions but cut out a few things I know I wouldn't use and held on to a few modules from my initial build that I think are more vibey than functional
-I've got 2hp unused and I'm deliberating over what to fill it with (though that decision could be quite far down the line as I want to build my rig a little at a time and really learn each module as I go).
-Is there a smaller wavefolder that doesn't compromise? 6hp seems a little much for that but I don't know
-I'm quite keen to add a second Strymon AA.1 as I have a big collection of guitar pedals and it also seems like a good tool for bussing in stuff like my Deckard's Dream or whatever.
-If I find, as I build this system, that I'm doing well interfacing it with my Analog Rytm I'd probably scrap all the drum modules and chuck some other fun stuff there instead. Would you say I'd be better off with more sound sources or more sound processors?
-Mutant Brain seems a little bit cumbersome to use but I'm not sure if anything else is doing everything it can do in that small a footprint? Would love opinions on this. I would mostly be using it for interfacing my DAW to the modular system. But this would be happening via a MOTU MIDI express 128, so having DIN-MIDI as opposed to USB is important. If it seems like switching to USB-MIDI would really make my life way better I could reconsider this.
-One thing I've held onto from Lugia's redux but I'm not totally convinced I need is the expander unit for the Zadar. I'd love to hear from people who use it about why they do or do not feel like the expander is essential.
-I actually ordered my first modules yesterday! Happened to see a really good deal pop up on an eloquencer with the expansion unit and I grabbed it! Don't have any modules to sequence or a rack to put them in yet, but I'm excited to start my modular journey!
-Completely random: I REALLY want the Rossum Panharmonium but I can in no way justify the space and probably not the price either. Anyone else used one? I wish they'd put it in a desktop module or even a streamlined version in a guitar pedal. Anyone used this beast?