TLDR: I made a kind of Buddha Machine in a 3D printed case. Links to print files in main text.
I have long been a fan of FM3's Buddha Machine - https://www.fm3buddhamachine.com/ - gorgeous little things. I wondered how I could build something similar. But I put that into the never-never, nice idea, but not going to happen. Too much complexirickery electronicalist smarts, clever soldering and so on, to learn.
Then, a couple of years ago I discoved modular (yes, I'm a newbie all right. Generative patches and so on.
I found this nice little 3D printable case on Thingiverse - https://www.thingiverse.com/thing:4863118 - 46hp in two rows. I got one printed. The 1u row is designed for Intellijel, but I bought Pulp Logic. About a half a millimeter too big. So I designed an adaptor to take them - https://www.thingiverse.com/thing:4954825 - and I actually think I like the look of that more than if it was flat.
These are the modules I chose - the only difference is that the blank is 3D printed too.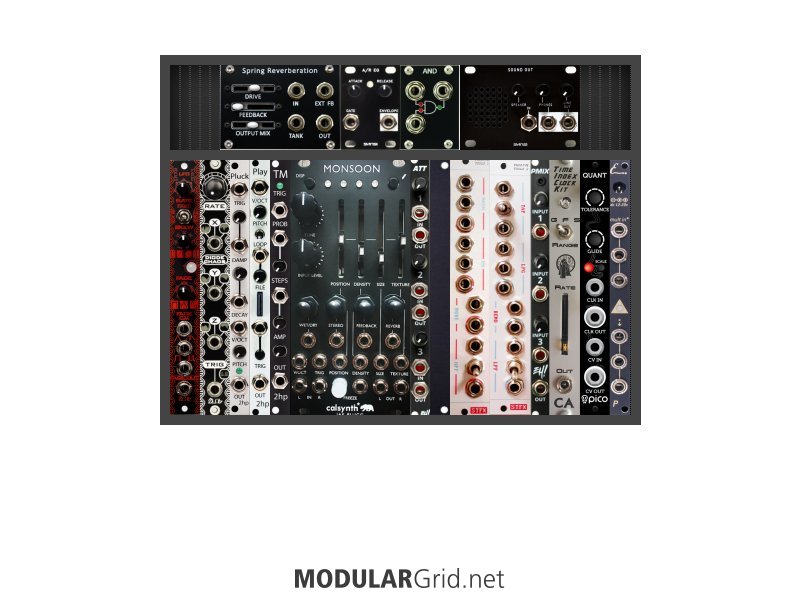 The main case is pretty shallow, so I was only just able to get some of those 2hp modules in (the Pluck has an extra washer at each screw between the module and the case to lift it that extra millimeter). I bunched the deeper modules at the left, leaving space under Monsoon, and the passive modules for the power connections. It's pretty tight in there. In my naivety I thought I would fit the spring reverb tank in there too - it ended up mounted on the back, and I had to drill a hole in the case for those cables.
But, I'm pretty happy with the result. With the Zlob LFO and Diode Chaos, I can vary those parameters on the Monsoon, smearing out the sounds from the pluck and the play.
The audio and video is an eighty second loop coming from the Play, with a little bit of sound from the Pluck (I might swap that out for another Play) (the YouTube sound is a little different from the SoundCloud - something about my video editor meant I had to run the file through some filters before exporting. I named the SoundCloud file Polar Sequence Fragments Pt II because that seemed more interesting than 801-1254.mp3.
I think a Buddha Machine retails for about $35, but this looks like about $1400 of modules. Still, my Buddha Machine has nine tracks. With this, I can just keep making more and more.