Hi!
What do you think of my setup?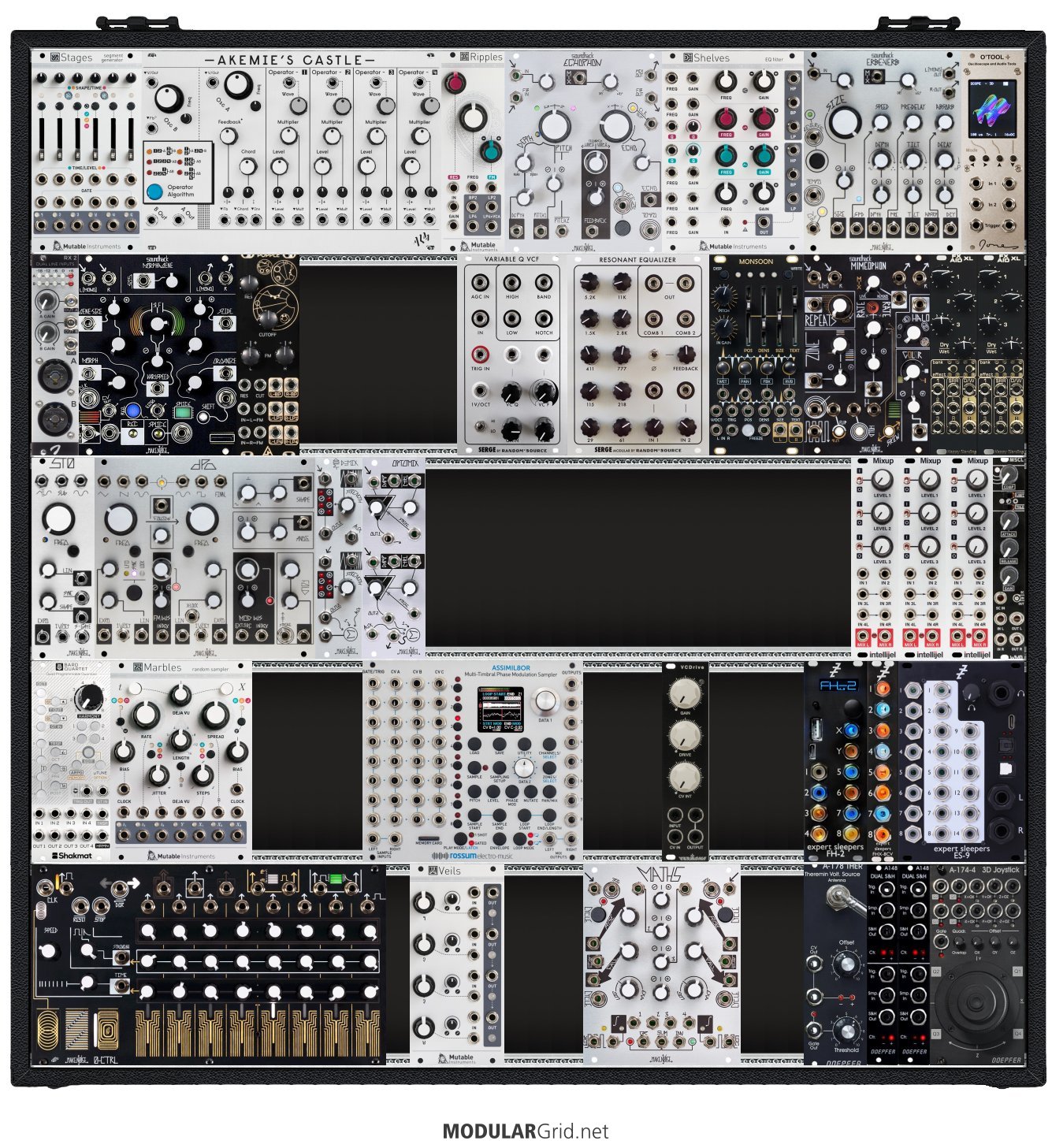 My sound sources are Assimil8or, Morphagene, Akemie's Castle, DPO, STO, Stages (in harmonic oscillator mode) and Panharmonium. This gives me high-resolution sampling (Assimil8or), old-school digital FM (Akemie's Castle), an analog complex oscillator with FM (DPO) and additive synthesis (Stages and Panharmonium). The DPO adds some additional analog waveforms and a sub-oscillator.
Filters like Ripples/Popple, Shelves, Variable Q VCF and Resonant Equalizer provide warmth. Erbe-Verbe and Echophon provide digital effects that are a bit on the lo-fi/cold side. It may be a bit overkill, but I put three FX AID XL in there as well, for additional effects and utilities.
Speaking of potential overkill, I put three Mixups in there. I'm using ES-9 with Ableton Live, but I like to be able to work without a computer as well. (I'm having the hiss problem with both Mimeophon and Morphagene (when mix/SOS is not fully CW), so I'm planning to use the "IN 3L" and "IN 3R" Mixup channels to be able to adjust the levels related to those modules.)
A Keystep Pro is used for sequencing (if Ableton Live is not used for that). 0-Ctrl can sequence as well, and be quantized using Scales if desired. I'm planning to try to use Frames to extend the CV capabilities of the KeyStep Pro.
Dual VCDrive modules can add distortion to the stereo audio from Morphagene. Streams can act as a stereo LPG.
The second Stages can provide envelopes and LFOs for Akemie's Castle.
O'Tool+ can be used for tuning.
The WMD MSCL compressor can glue the mix together if desired.
Thanks!