Hello dear! We are kNoB technology
And i want to introduce you to our first synthesizer!

Now our crowdfunding campaign has started for create this device at a good price.
We will be glad to see you on our page - https://igg.me/at/muscarin
The Muscarin – experimental semi-modular synthesizer
The Muscarin is an analog music synthesizer with analog and touch controls, that has everything that's needed for creating music and synthesis of sounds.
Designed by kNoB technology, it is based on cross-modulation technology. It is designed as semi-modular, and can be used by it's own, or as a part of eurorack system.
It is made for generating standard sounds and sound effects, as well as for extremely changing their sound while playing, converting it to a complex structured noises. It has full manual hands-on controls (switches and knobs), as well as it can be controlled by CV (control voltage).
How does it differ from other synthesizers?
Early Muscarin synthesizers was made only for sound experiments, and could be classified as noise generators, although it always was a powerful instrument, combining additive, subtractive, FM and Cross-modulation synthesis. Later it was decided to fully reconsider the concept of Muscarin, to widen its range of use, adding new functions, without limiting its noise abilities, and making it more universal and flexible. With this purpose it was designed as 3u eurorack, and has a lot of inputs and outputs.
Muscarin is able to generate bass, lead, piano, organ, violin sounds. But it's major difference is cross-modulation, which helps to create complex, multifactorial noises and noise effects, as well as lo-fi drum and percussion sounds.
Block structure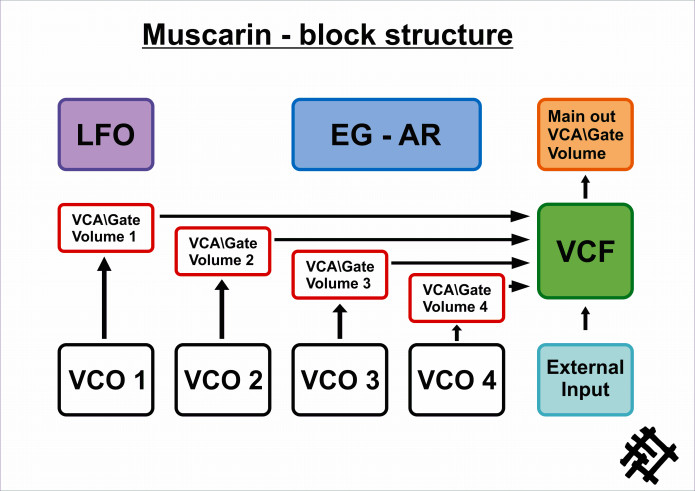 The front panel and controls: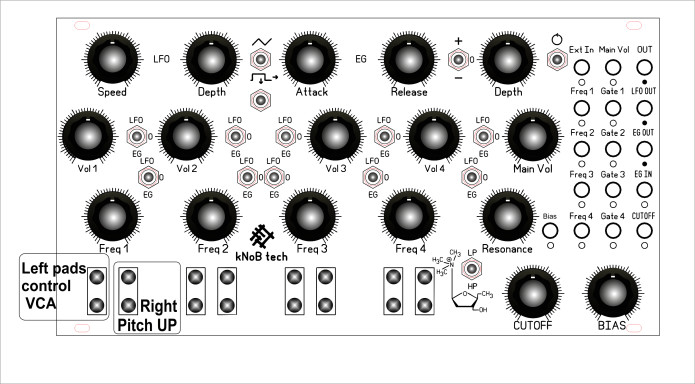 inputs:
4x VCO frequency CV control
4x VCA\Gate CV control
1x Main VCA\Gate CV control
1x VCF cutoff CV control
1x Bias (cross-modulation) cv control
1x Envelope AR in
1x External signal in
1x LFO CV (new function)
Outputs:
1x Main out
1x LFO out
1x Envelope AR out
-The front panel is made of plexiglas
- You can choose as a desktop version in a wooden case (pine, cnc milling) and as a module for eurorack without case
The weight of the device is 600 g, height 3u, length 48HP depth 4 cm.
Power supply 12V. 200mA max.
Who could need it?
Everyone who loves experimenting with sound, and musicians (composers) who want to add some unique sound forms into their compositions and creations. As well as sound designers, who wants to widen generated sound pallet.
About - kNoB technology
Know – No Boundaries
kNoB technology is a micro-company based in Russia, in the City of Kazan, which is engaged in development of unique sound devices since 2015. Noise synthesizers, drone machines, analog sound effects, before now was releasing only unique devices on personal orders, but the positive feedback has pushed us to developing mass production devices. In our work we rely on calculating and love for sound.
We chose to crowdfunding, because we're unable to start mass production all by ourselves, but we believe that together we can create a unique device at an affordable price. Also, we will be grateful for any help in spreading the info about this project.
Risks and challenges.
Nowadays we have a prototype, that has passed lasting tests, and as a result of them a hard work has been done to correct and supplement the circuitry of the device.
The final product will be a little different, better and will have some more additional functions.
We rely on calculations, and if the project will gain sufficient funding, another testing will be provided. Additional testing will last 1 month. By that time all needed components will be already ordered, after the testing печатные платы order will be made. The production will take 1 more month. It will be great if everyone will get their device by Christmas!
If we will raise more funds than we have set as a goal, we are ready to hire some temporary workers, to complete the work earlier.
Updates on every stage of production will be posted here and on our social media pages.
Follow us on and stay tuned:
https://www.facebook.com/knobtechnology
https://vk.com/knobtech
https://www.instagram.com/knobtechnology
Link to our indiegogo page