Hello everyone!
After watching countless YouTube videos and doing research on my own about modular Eurorack systems, the idea of building a modular system as an addition to my workflow is starting to feel very appealing and I would love some feedback about my current idea that I plan to build up slowly so I can learn one section at a time of the larger/finished project.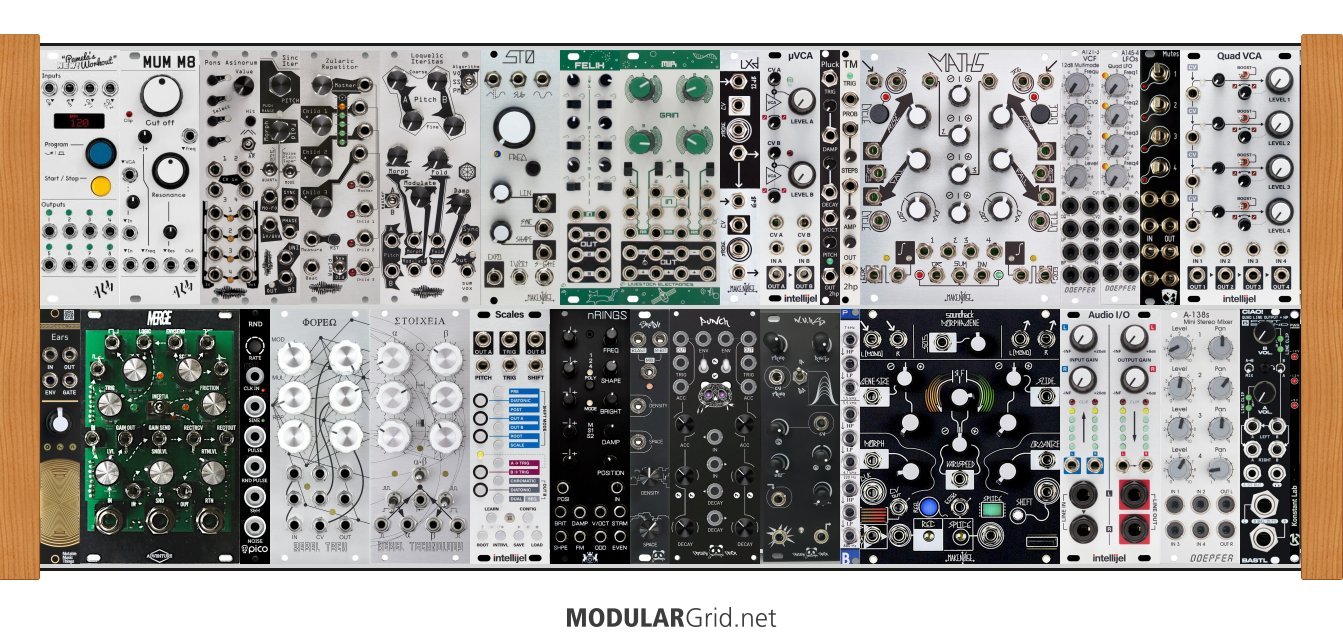 For a bit of background...I play guitar, have worked in studios as an engineer (both analog 2" tape and digital with various DAW systems), and in terms of electronic music creation I have mostly worked with a combination of hardware synths and software (Ableton/Reason/Logic/Motu). I guess you could say I am older than only some dirt? ha! Anyways...after a long day of work, yet more staring at a screen has become less appealing, so a Eurorack that I could plug my guitar into and loop/delay along side some percussion and other sounds sources/non-traditional sequencing/modulation sources seems fun.
For guitar/instrument input, I have both Merge and MI Ears added to this rack. I like the idea of having 2 input sources (jam with a friend? Guitar + Roland 606?...contact mic into the Ears module? lots of possibilities with pedals!). Still debating between Pams Workout as a clock, or if I would switch this out and change things to fit a few pieces from 4ms like the rotating clock divider. I don't mind menu diving, so Pams would not be a problem for me in this area (I have read some people dislike Pams because of the menu diving). I also have an interest in alternative sequencing methods, so there is the Rebel Tech Stoicheia for Euclidean rhythms and Rebel Tech Tonic for its unique approach to pitch sequencing. For more of a "master control center", I have also been pondering the idea of a Pioneer DJ Squid to have some trigger pads/step sequencing/groove options/etc...
To save space, I do have clones of Marbles, Rings, and Elements in here so that the Magneto delay and Make Noise Morphagene would fit. If there is a key idea I am missing please let me know as I could see an alternative where the Make Noise module is in a self contained 4ms pod case or something like that. Then, I can fit a different module or two in the main rack....or if the clones don't play nice with the other children, the regular Mutable modules in a separate smaller rack could be an idea. Overall thoughts on the MI clone modules would be very welcome!
I also feel like I don't have enough VCAs, so I am open to re-arranging things in this area :) Another key area I am trying to figure out is what to do for getting audio samples into the rack (to then mangle with Morphagene and Magneto). I do a lot of sound design/soundscapes with my field recorder, so it would be nice to modulate those sounds. I am thinking the Audio I/O and just run the field recorder outputs into the modular that way...maybe some kind of sd card wav player would be a better idea?
Looking forward to hearing from people, thanks!!