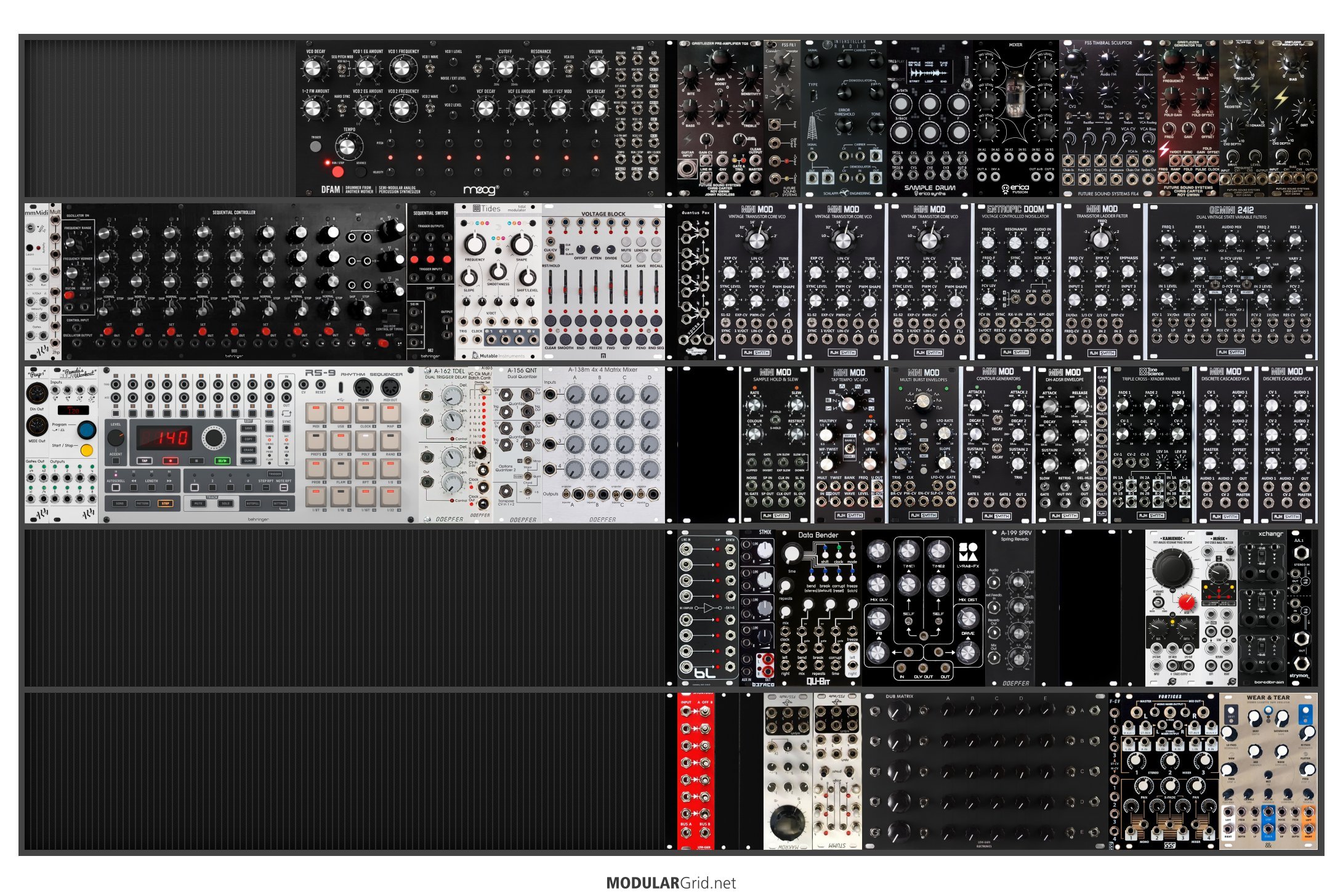 Well, I'm almost finished building this beast. I started getting pretty serious about putting a dream instrument together at the end of last year, and I should have the last two pieces of the puzzle (the Panharmonium and TG4) in the next few weeks. This website has been so valuable for me in realizing this project. It has been nice gaining insight from all of you and even sharing some along the way. I thought I might share a few things I have discovered for the folks interested in dipping their toes into the Eurorack world (or for those diving in headfirst).
I think I have mentioned before that I have a fairly long history with synths, recording, music etc., so I wasn't exactly starting from scratch. I sold off all my old equipment years ago, though, and this format was completely new to me. The potential of Eurorack rejuvenated my interest in making some music again. I went from having zero musical equipment in my home to having what I think is a pretty killer synth in a little less than a year. So what did I learn along the way?
First, this thing probably ain't gonna pay for itself, so be careful with the credit card. I put a few things on the card, but mostly paid cash. I'm not a wealthy man, so I had to make sacrifices and take some opportunities for extra work. Many hobbies are expensive, and this completely overshadows my record collecting habit for its zero-bank-balance-inducing potential. Buy used, DIY, whatever… Just don't go into debt for this.
That leads me into the second thing I learned. Slow down a little. Buy one thing (or a select few) at a time. This way you can spend some time learning the potential of each module, and decide if it really fits in with your workflow and the kind of music you want to create. I wish I had kept the first rack I built on Modular Grid because it was COMPLETELY different from what I actually built. You will know what you need next after you start incorporating a few things into your rack.
Third: Do your research. From MG to MuffWiggler to DivKid and beyond, there are a million resources to help you figure it all out. Outside of work and actually playing around with my synth-in-progress, I spent most of my free moments researching this big investment. I know you probably want to ask a million questions, but they have already been answered. Take ownership of this journey and put in some work to understand what you are getting into.
Fourth: Don't be afraid. Don't be afraid to jump into the modular world. Don't be afraid to take a chance on an interesting module. It might just change your whole concept, or it might be a dud. So what if it doesn't end up working for you. Don't force it. Just sell it and move on. You might take a little financial hit, but chalk it up to the learning process. I've bought some crap records in the past. I sold them and bought something I liked instead. Same thing applies here. Don't dwell on it. If you have actually done a bunch of research and moved slowly, the duds will be fewer and farther between. Also, don't be afraid to put your music, demos, videos, and experiments out there. If you are going to make some noise, share it with the world. Most people will probably hate it, and that's ok. Back in the early 70s, the lead singer of the New York Dolls (David Johansen) told Joey Ramone that the Ramones sucked and they should give up. Ignore the haters and just do what you do. You probably aren't going to be the next Brian Eno, Aphex Twin, or even Merzbow, but don't let that stop you from enjoying and sharing your creative energy.
Fifth: Don't believe the hype. Just because a module is popular amongst modular enthusiasts or a "must have" doesn't mean it's right for you. A few of my earliest purchases were "must have" modules, and they are among my least favorite (I'm looking at you Maths and Clouds). You can build a generative-ambient-houseplant-and-cup-of-herbal-tea-overlooking-a-beautiful-peaceful-garden rack without Rings and Clouds, I promise (though Rings is pretty sweet). I'm holding on to Maths and Clouds for now, but I've found that there are better modules or combinations of modules for what I want to do. You may love both of these, but I bet you will find a few modules that will make you wonder what all of the fuss is about.
Finally, build something that is fun for you. Build something that makes you want to experiment or record all the time. If the module looks like a pain in the a**, it probably is. You don't have to get into some weird Nietzsche suffer-for-your-art thing. If you get a headache from menu-diving and multiple button combinations, don't buy those kind of modules. Above all else, have fun.
I'm probably going to be a bit less active on Modular Grid for a while because I actually have the instrument I want now. I don't have as much research to do and I have a few projects I want to dedicate some time to, to take beyond the lo-fi screwing-around-and-seeing-what-comes-out demo stage. I just wanted to offer some food for thought to the new folks who are standing in the shoes I was in not too long ago. Thank you to all of you who have helped me along without realizing it (Lugia, Garfield, Ronin, and others). This website has been such an invaluable resource for considering different approaches and viewpoints.
P.S. Almost forgot… Buy a bigger case than you think you need. More utilities, modulation sources, and VCAs will make your rack a lot more fun, and modulate the modulators.