Hi folks,
As I continue my modular journey, I find myself wondering "what would be really great?..." for various sections of the modular setup. I've had some earlier threads on sequencing, DAW I/O, etc. Next I'm wondering about VOICING, specifically pitched (non-percussion) voicing.
SO, I thought I'd ask, what would be your "dream" voicing setup for non-percussion sound design in Eurorack?
To give some constraints to this, let's assume:
-- up to 20 modules total, including up to 8 oscillators/sound sources, up to 6 filters, and up to 6 anything else voicing-related (e.g. waveshapers etc.)
-- we won't bother to include any CV, sequencing, utilities, I/O for now
-- with the up to 20 modules selected, let's try to "get the best of modular" e.g. represent a high % of what modular is good at on the voicing side of sound design (e.g. avoiding loading up on modules with similar functions)
-- we will assume the rig is used for ONE or FEW voices at a time (e.g. not trying to optimize for high polyphony, just one or few really great voices)
Here's my v.1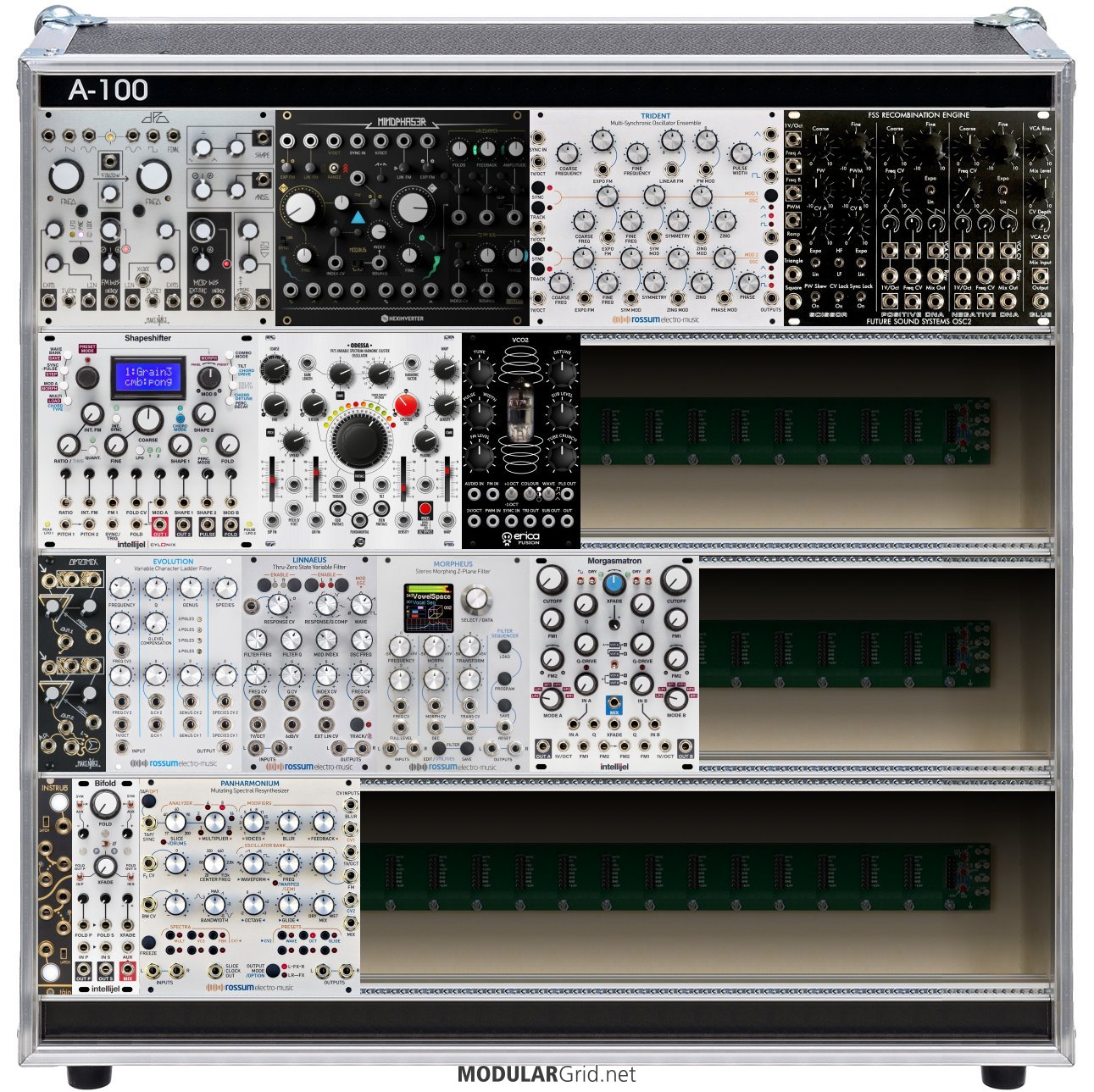 Comments:
-- DPO and Mindphaser would be my pics from among complex oscillators. Yes there are other good options (like C-sl) but IMO these are very solid and a good complement to one another. I could be talked into better alternatives for complex OSCs if there are some
-- Trident and FSSOSC2 are my pics for additional analog oscillators that are super interesting, powerful, and unique to Eurorack as far as I know. I know of basically zero good direct alternatives to these
-- Shapeshifter is there for powerful Wavetable OSC capabilities; Odessa for additive; Erica VCO2 for grimy overdriven analogue
-- in filters, we've got Optomix for dual LPG, then 3 Rossum filters -- Evolution giving a great and flexible ladder filter, Linneaus giving a very interesting modern FM-ing filter, Morpheus a very flexible digital filter, then Morgasmatron as my favorite among dual filters (SFF Dipole being another great option)
-- my "other" pics are waveshaping/resynthesis; with Tain I can switch audio at audio rates; Bifold is a great waveshaper; and Panharmonium for resynthesis
-- that uses up 15 of 20 possible modules for this "exercise." What I don't have included yet is any granular stuff (as I don't know the good pics there well) or sampling (as Eurorack sample-based stuff has not been a priority for me, rightly or wrongly I see it as less convenient than VST options)
SOOOO... if you are interest in kicking around some ideas for a "dream voicing rig" I'd be interested to hear! Of course there aren't right or wrong answers here. But I am curious if we can drive to a "super solid, deep and interesting" voicing rig within the constraints mentioned above.
Thanks all!
Nicholas