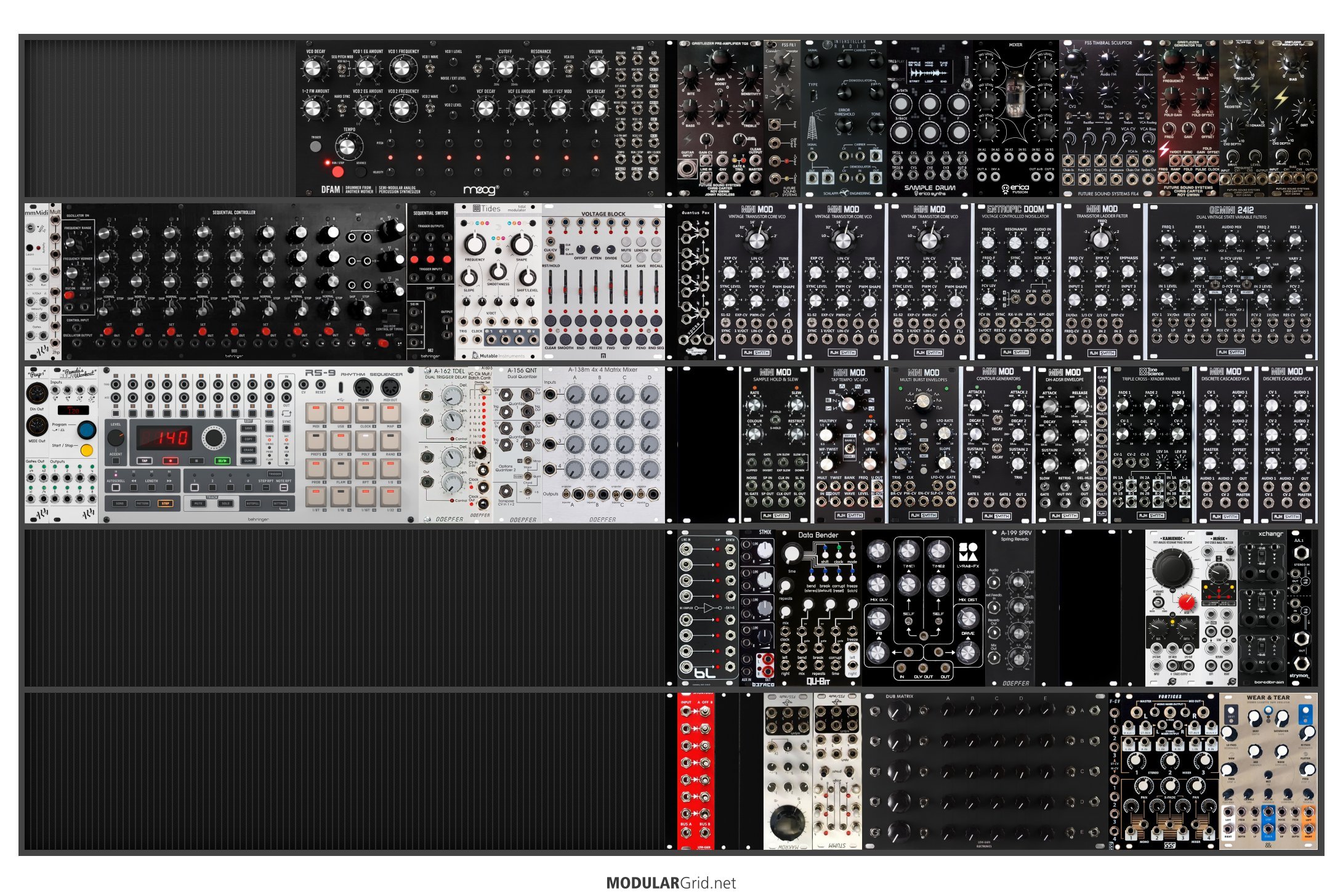 Haven't shared much about my rack build progress since January I think, so here's a quick update for anyone interested.
Long story short, I started making music again in late 2019 after about 15 years away. Used to have a bunch of old hardware synths, some fairly desirable, and got really burnt out with computer recording so I just sold everything and didn't even miss it for a long time (except for my old Moog Rogue, dammit I miss that thing). I stumbled across some interviews with Genesis P. Orridge and Richard H. Kirk in late 2019 and got really inspired to make electronic music again, mostly just as a conceptual art project exploring repetition, noise, improvisation, and glitchiness. Got into modular because I always loved synths and had some disposable income throughout 2020. Tried a bunch of different modules and sounds feeling my way into eurorack-land, bought, sold, learned what I loved and hated, rearranged, added, removed, bought, sold, and rearranged again... and finally settled into a system I enjoy using. I've got just enough desk space (and cash) to add another 104hp and that should be enough for quite a while (famous last words, I know).
The sounds I really enjoy working with the most come from the years 1973-1983: pretty much simple primitive analog subtractive synthesis and recording techniques in the vein of Phaedra/Rubycon-era Tangerine Dream, Tin Drum-era Japan, Cabaret Voltaire, Depeche Mode, Klaus Schulze, Michael Hoenig, Ashra, Fripp & Eno, early Human League, post-punk and goth... you get the idea.
I don't really gravitate towards granular, "west coast," or digital FM. Basically, I could make the kind of music I like with relatively simple equipment.
So, the rack pictured is what I already have with a few things included that I will be picking up shortly. I am very happy with the layout so no complaints about that. I have some ideas to fill the empty 48hp eventually, but I'm not in any hurry and would welcome your ideas if you think there are any modules that you think might suit the direction I'm increasingly heading in. I already have polyphonic sounds covered with a Prophet Rev2, a B-company VC340 string machine/vocoder, and Roland JV1010. I've got sampling covered with an MPC, so no real need to add that to the rack. I've been window shopping the SSF Vortices "character mixer," WORNG Soundstage stereo field filtered mixer, and Xaoc Devices Sarajewo analog syncable delay. That new WMD Kraken looks pretty sharp too. But I'm totally open to suggestions.
Lord knows I don't NEED any of this stuff, but it's always fun to hear others' perspectives. Thanks in advance for anyone who read this far or has suggestions. Have a great evening.