Hi all,
As a rather long list of beginners before me, I'm submitting my first euro rack idea to your expertise to see if I missed something in this first draft and how can I fill those empty slots. To bring some context I'm new to fully modular setups but I already own the Moog semi-modular Trilogy (Mother 32, DFAM, and Subharmonicon) which I love and want to keep (but out the rack). I now want to go deeper into that path by making this first rack. I want to make some "ambient/melodic techno" I would say with a lot of randomness in the texture but a structural base of kick-snare to rely on. This rack should be able to generate cool jams by itself but will of course be completed with my current gear.
I intend to use the Arturia RackBrute 6U because it seems rather convenient to use and to expand with another one, but let's no go too far from now on. So from left to right, from top to bottom let's start the review.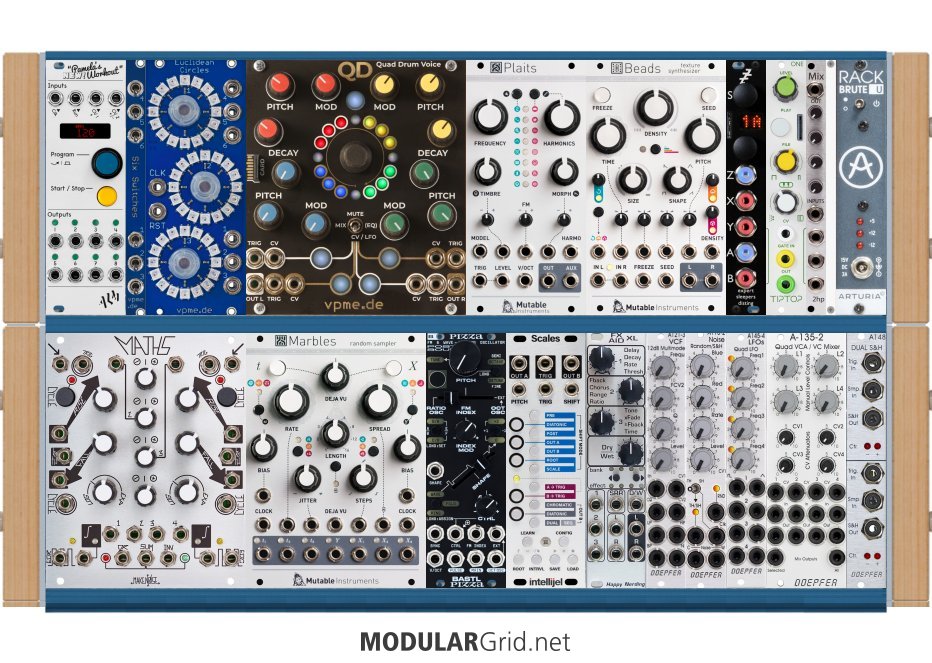 First, the Pamela New Workout is the main clock, it provides division and some randomness so quite a strong module. Then for sequencing triggers, I wanted to go with the Euclidean Circles with the expander switch. All the drum/percussions sounds will come from the following sources: QD, Plaits, and One. I conclude this first row with effects with Pico DSP, Beads, and a 2HP reverb and mixer.
The second row starts with obviously Math for modulation. Then the sequence of the Turing Machine, a Quantizer, a VCO and a filter will be used to generate the main melodic line of the jams. Finally, I have added a Noise generator and LFOs for additional modulation. I conclude with a 4 VCA / Mixer as the main output.
Does it seem complete to you? What is it missing?
Thank you for your time,
Cheers!