Hi guys!
After almost 2 years of watching YT videos about modular synths, generating some bleep&bloops in VCV Rack I decided to build my own rack... As you know starting with modular is quite complex, so I'm asking you for help.
I'm not a professional music maker, just a hobbyist. I want to start "small" and then dive in. I really like ambient sounds with noisy electronic drums/effects like here or here.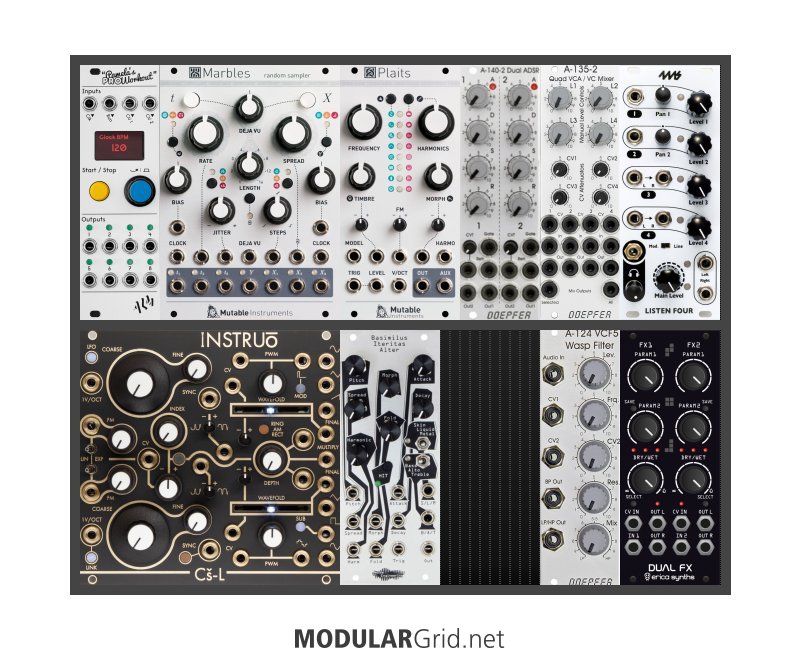 My ideas how to use this:
Clocking, sequencing, random melodies

Pam's - this is very versatile module, it's probably a little too menu diving but having 8 programmable outputs looks great.
Marbles - build in bernoulli gate and random sequencer is great for generative patches.

Sound sources

Plaits - almost all newbie racks propositions have it and its sound possibilities are huge.
Basimilus Iteritas Alter - this module is crazy, I love this heavy, deep, noisy drums.
Cs-L - this is like lessons from oscillation theory I want to take: FM modulation, wave folding, cross-modulation...

Sound modifiers

Wasp filter - it sounds just great
Dual FX - for wider sounds

Utils

Pam's - so many nice things in one module: quantizer, S&H, LFO, envelope generator
ADSR
Quad VCA
Mixer & headphones out
Questions/problems:
I'm thinking about Intellijel Quad VCA instead A-135-2 Quad VCA but deopfer is a cheaper. Is module from Intellijel better than A-135-2?
Too many sound sources? Should I throw away great Cs-L (too big and to complex for newbie?) and get simpler oscillator (Befaco's Even VCO?) + effect (Dual Drive from Erica Synths)? Or just remove this complex oscillator?
Am I missing some important utils/sound modifiers?
No noise source... Should I add something?
Sadly Mutable Instruments is closed, its better to look for secondhand offers (this modules are beautiful) or for clones?
How many cables should I buy? ;)
Thank you for all advice!
EDIT: preview of rack looks like "old one", probably some cache.