The idea of this rack is to have a small modular system which I can use for bassline + one or two melodies. I may also use it for drones and textures and it would be paired with an external drum machine.
I've been thinking of a system with two complex voices or up to four simpler voices, which I would use to produce slow techno / dub techno and to allow the exploration of more ambient / drone territories.
I also tried to use as many of the modules I already own, that's why I'm using a 6U rack instead of a larger case too. From the modules I own there are a couple I wouldn't mind replacing as I'll probably sell them at some point anyway, the plaits and the zadar.
Plaits is a fantastic module and can produce a wide range of sounds, but working with it sometimes feels like going through presets instead of creating something new from scratch, I find much more enjoyable using analog VCOs. Something similar with the zadar, great module with tons of functionality built in, but I've learnt that menu-diving doesn't suit my workflow.
So this is my current rack, which is currently paired with a minibrute 2s. And this is what I've been thinking to do, this one would be standalone and not using the minibrute, just a desktop drum machine: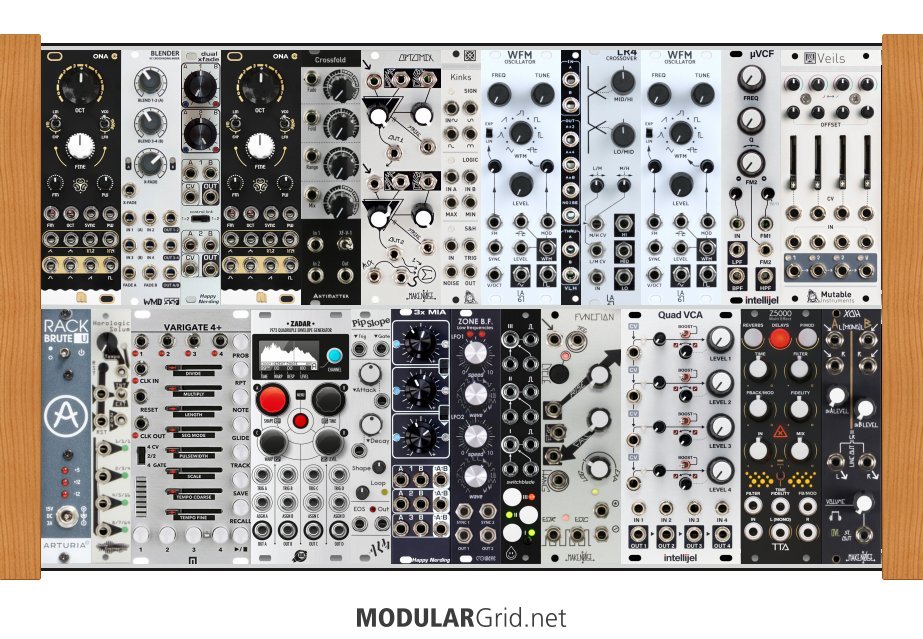 Is there enough modulation? do I need more VCAs? Would this work for my goal? can it be improved?