This was amusing. I really, really ripped into this one...partly because builds of this size are a total PITA to try and sort out early on. As a result, the kit modules got deleted...but in that process, I punched the capabilities of the original WAY up. Also, there were some lurking ergonomics issues AND a couple of those modules exceeded the "skiff depth rule of thumb" of 45mm...one was way up around 60mm, which for a basic module is sort of...well, not good. Anyway, here's what resulted: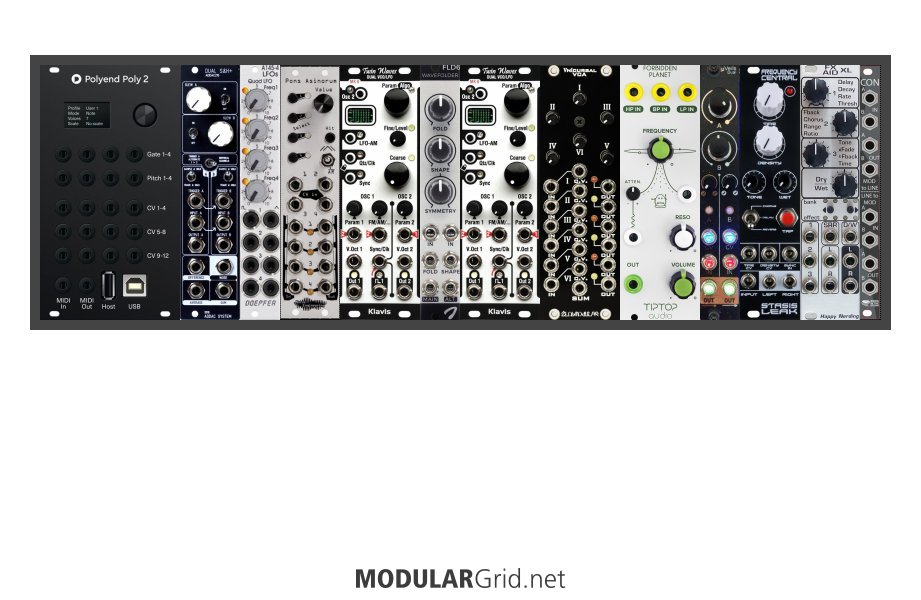 Four VCOs (with quantizing!), quad 2-stage EG, eight VCAs, Nyle Steiner's rip-yer-head-off PERFECT for leads VCF, mono-to-stereo tap delay/reverb/chorus AND a Happy Nerding FX Aid XL. And the cherry on the cake: step down AND step up I/O on the end so that you have both stereo out AND IN so that you can bring external audio through the VCF/FX while having both channels under VCA control via that Zlob hex VCA. There are bunches of "sneaky functions" in there, too...this took the original idea and hooked it up to a bottle of nitrous while also improving the patching ergonomics.
So, left to right: Polyend MIDI interface and ADDAC dual sample and hold...and then the FUN starts! Quad Doepfer LFO, quad Noise Engineering EG with loopable envelopes so you actually have EIGHT LFOs if you didn't use any of 'em for envelopes. And then the killer...TWO Klavis Twin Waves, and a Joranalogue wavefolder positioned for either Klavis module to use. This all feeds to the Zlob Vnicvrsal VCA which has six "breakable" VCAs plus an internal mixbus. Tiptop's Forbidden Planet is a copy of the Steiner-Parker Synthacon VCF...and take it from a former Synthacon owner, that VCF just looooves to shriek and yowl and get used on leads that can cut right through anything. Fan-damn-tastic VCF. After that, there's a dual VCA from After Later that's based on the Mutable Veils topology, albeit as just a pair which can be used as two stereo VCAs or summed for mono. Frequency Central's Stasis Leak gives you your basic effects, namely a tap delay, stereo reverb, and chorus, then I put an FX Aid XL in so that you can have, say, delay + reverb, or any sort of combo of what these two can do. And at the end, there's a Riders In the Storm CON, which has the stereo level shift down to line from modular...AND an identical pair of up-shifters to go from line TO modular, which allows some interesting possibilities, such as processing an external source, or setting up something akin to the Minimoog's "headphone jack trick" that lets you set up a feedback loop.
And really, that's NOT everything I stuffed in here. There's a lot of hidden things, such as the ability to do some very strange things with the Klavis VCOs such as random signal generation, LFO capabilities, crossmod, etc etc. And while I did shift a lot of functions around, the only ones that are wholly missing now are the ring modulator (use a VCA instead, now that you've got eight!) and the mult (use inline widgets instead...small builds need to be 100% function, and multiple modules are robbing space from that in small builds). Otherwise, everything you had is in there (minus the kit modules), but pumped up on 'roids. Better, I think...plus these modules will play really nicely with each other and other additions when you expand the build to 9U.